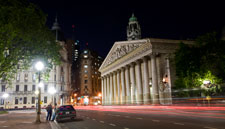 I arrived in Buenos Aires last November a few days before the start of a 3 week tour through Patagonia with GAP Adventures
. My flight arrived around 8:00am, and I signed up for a ride with a local bus company to drop me off at the hotel for 1/5 the price of a taxi. After one transfer, they dropped me at the hotel door. I couldn't check in that early, but I could store my bags and spend the rest of the day exploring the city.

I had hastily arranged this trip only one week before arrival. Originally, I had scheduled the tour for mid-January to take advantage of sometime between jobs. However, I got a job offer that I was not expecting since it had been a while since the interview, and it did not seem right to turn a reasonably good job down when so many other former co-workers were still out of work. I couldn't get a refund on the tour if I canceled it due to a new job, but GAP were willing to let me exchange it for an earlier departure and my new employer was willing to delay my start date a couple of months. I rearranged my flights to combine this trip with a previously scheduled Nicaragua trip, ordered some travel supplies last minute, and one week later I was in Buenos Aires. I had to cut out a few free days in Buenos Aires and I cut out a side trip to Santiago, Chile, completely to fit within the schedule I had.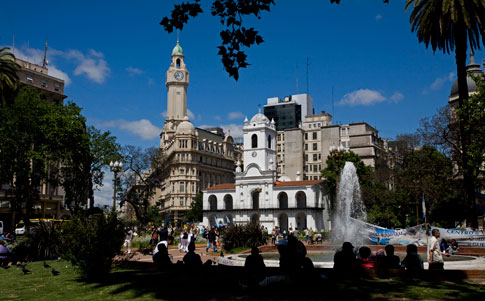 Once I arrived in Buenos Aires, I started discovering all the little things I forgot to pack in the rush, and so the few extra days before the organized tour gave me some time to look around and find things. The most important item I needed to find was a converter for the local electrical plug so I could recharge my camera batteries, cell phone, laptop and razor. On the first afternoon I found a mom & pop electronics store. Due to the language barrier (my lack of Spanish) it took me a little while to convey what I was looking for, but the owner eventually understood and pulled out an adapter plug and showed me the printed add for the part which would have run around $50 USD. That was too high and so I passed. Later that day, I found a section off the Florida Street pedestrian mall with a bunch of electronic shops and found the same device for around $2 USD.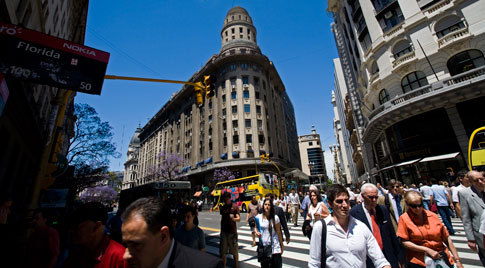 I arrived at a time when many of the trees in Buenos Aires were blooming with these purple flowers. (
EDIT: These have since been identified to me as Jacaranda trees
.) My Patagonia tour returned us to Buenos Aires at the end of 3 weeks, where I had a couple of days after the tour to take a second chance at some pictures. However, by then all the purple flowers were gone and things had a different look.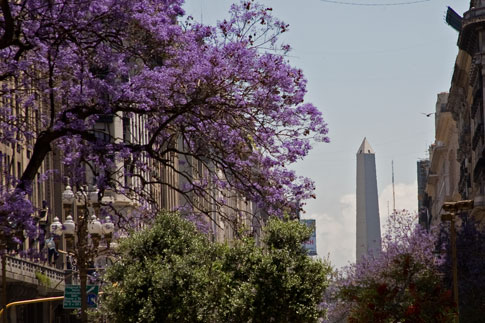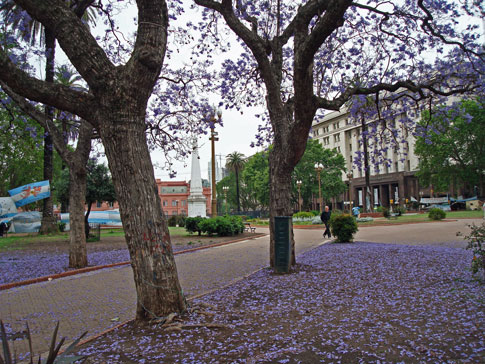 I took my tripod and camera out on several evenings to get some night shots. Some of them came out pretty good thanks to the well lit buildings. (See
more night shots.
).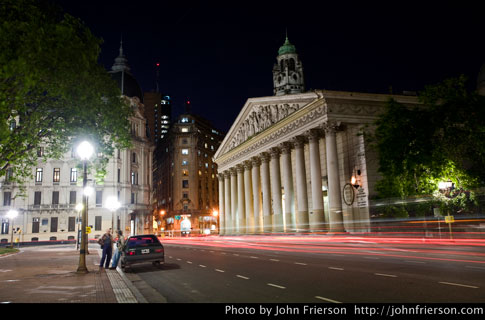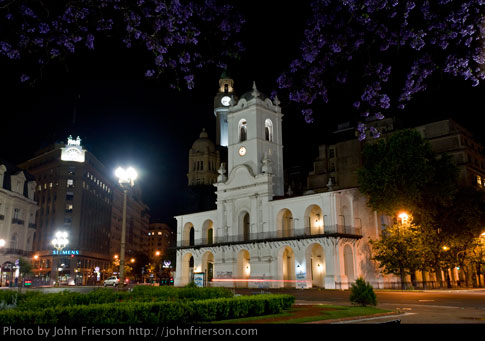 In Plaza de Mayo after returning from my Patagonia tour, I noticed at sunset several fountains were lit nicely and thought that would make a good picture. But these fountains were turned off fairly quickly after the sunset so I missed the chance to photograph them that first night. So I came back the next evening and managed to take a few shots before they were shut down.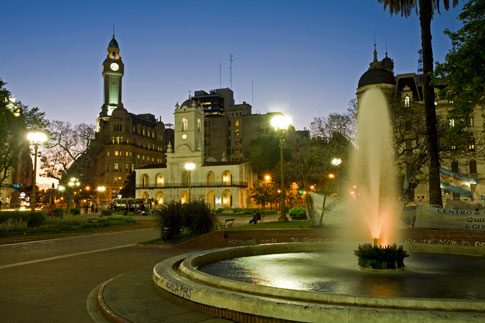 I went to the San Telmo street fair on Sunday. From the square in the San Telmo Neighborhood, stretching about 10 blocks, were all sorts of vendors lining the streets selling arts and crafts. There were also a lot of vendors selling orange juice or lemonade which they squeezed in front of you.
San Telmo Street Fair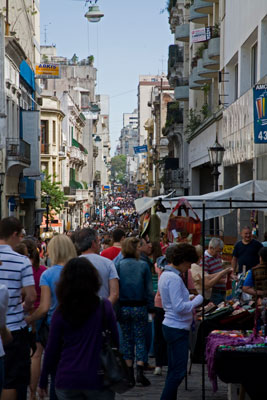 I mostly got around the city by walking, but occasionally I took the subway. Most of the subway cars are not unlike those found in any other major city, but one day I got on a car whose interior was made up with wooden benches and wood trim to look like some sort of old-time rail car. And the conductor had to manually open the doors at each stop. I am not sure if there was some significance to this car, but I never got it again when I went back to that route. Unfortunately I couldn't get a good picture in the low light and moving car.
After traveling in other parts of Latin America, I was a little surprised to find Buenos Aires had a more European feel than other parts of the continent. Every 3rd restaurant in the neighborhood I stayed in seemed like it was a pizza place or other Italian food joint. There were also a lot of steak houses, and I found the grass fed beef in each to be some of the best steaks I have ever had. I had not had that many steaks over the last couple of years, and so I made up for that deficiency with a little too much beef in just a few days.
Cook prepares a steak on a restaurant grill.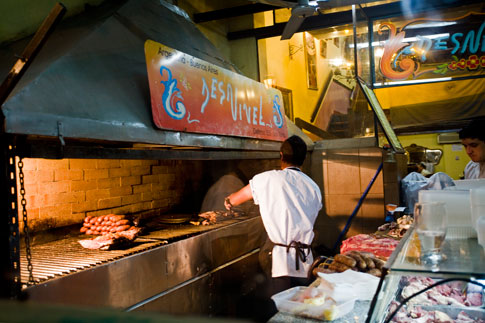 Lamb Barbeque at La Chaca Steakhouse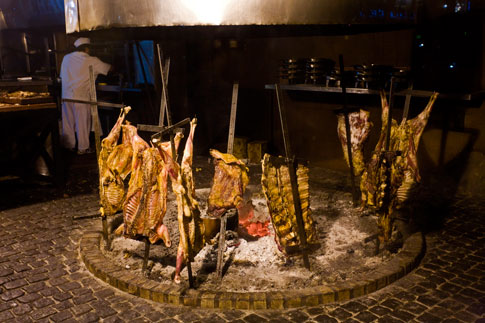 After seeing pictures of the Floris Generica Sculpture featured on the
Stuck In Customs photoblog
, I went and searched out this sculpture. Apparently, it has moving parts such that the flower opens and closes at sunrise and sunset. I was not able to be there at those times to witness it.
Floralis Generica Sculpture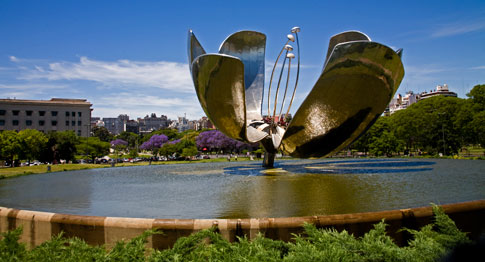 Another interesting place was the La Recoleta Cemetery, where there are many elaborate mausoleums with the graves for some of the most important Argentinians. This cemetery holds about 350,000 dead in 6400 tombs in 4 city blocks patrolled by about 75 feral cats fed by volunteers twice daily. Most tourists in the cemetery were scurrying around looking for Eva (Evita) Peron's tomb. Recoleta is located in one of the most affluent Buenos Aires neighborhoods. As I walked around outside the cemetery, I passed several commercial dog walkers out for a stroll, each with between 10 or 20 small, nicely groomed dogs on leashes.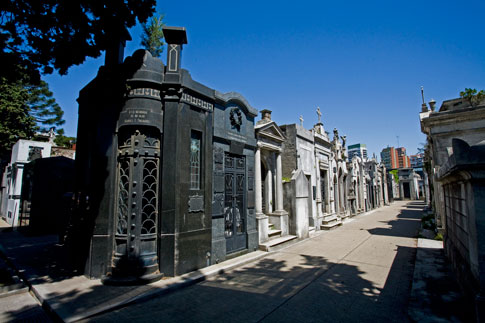 On my final day, I signed up for a 1/2 day tour of the city. It gave me a little more explanation for many of the places I had already seen. It also included a stop in the La Boca neighborhood, which was a bit touristy, but had many colorful buildings.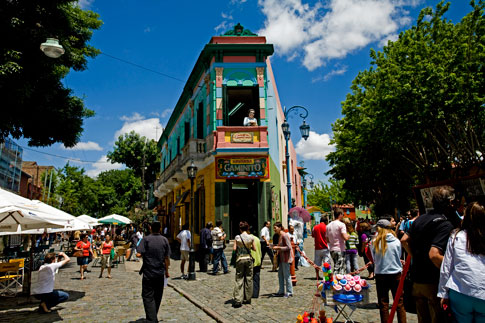 I stayed initially at the
Goya Hotel
where the friendly receptionist offered me all sorts of good suggestions on where to go and what to see. Later I moved to the
Hotel Carsson
to join the tour group. The only place I knew of with free WIFI was a Starbucks, which I had to make use of to take care of some last minute business that I did not get to before leaving home. Hotels in Buenos Aires were charging $10 or more a day for WIFI, which is curious since most other hotels I stayed in this trip in South America and Nicaragua, no matter how rural, usually had free WIFI.
I posted a bunch of pictures from the city, split into several albums for manageability, on my
Smugmug page
, but below is a slideshow with selected highlights from the city pictures.
For better viewing experience, see the full page slideshow, or view the album on Smugmug.

Earlier Posts from Buenos Aires:
Hokahey Run
,
Uruguay Day Trip