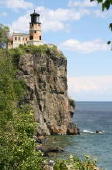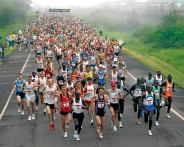 On June 17, I ran Grandma's Marathon in Duluth, MN. Grandma's Marathon was not originally in my race plan for the year. My focus was to be first on the Freescale Austin Marathon, and then on the Pike's Peak Marathon. But my parents decided to host a family gathering around this race on their way back from their vacation in Wyoming (they live in Tennessee), so I managed to fit it in. I guess they did that so they could see what this running thing I've been doing is all about.

The Pike's Peak marathon training group training group I have been running with has had me do a couple of long runs between 5-11 hours, so I decided to treat this marathon as a long training run (doesn't it sound cool to say it that way). It fit the schedule well since it corresponded to weekend of The Belt 30K and so the training program already had an easy week before and after, so I just substituted this slightly longer run. The Grandma's run has been so far in the back of my mind that when people ask what is my next big race, I have been saying it is the Pike's Peak Marathon. It usually did not even occur to me to mention Grandma's. It was not until the week of the race that it really hit me I was about to run it.

Wednesday night before the race I twisted my ankle running on the greenbelt. I did not think it was too bad at the time, but on Thursday it swelled up enough I had to walk around with an ace bandage for the day. I started to worry it might be a problem for the marathon, so I decided not to risk the Austin Duatheletes Pub Run on Thursday. But by Friday when I flew into Duluth, it was back to normal and OK for the race on Saturday.

There was a 5K race the night before the marathon. From my parent's hotel room on the 15th floor of the Radisson, we could see about a half of the course. This gave a good and unusual vantage of the front runners running neck and neck. Usually you can only see runners for a brief moment as they pass by. Most hotel rooms within 75 miles were $200+ a night for this weekend, so I took a cheaper, but still over priced, room in the dorm at the local college.

The morning of the race, busses left from most major hotels to take people to the start. I arrived at the start 1 hour before race time. After dropping off my sweat bag, I ran into Geoff and David B., the father and son from Austin who were running this together. I did not know them before, but they recognized from my shirt I was from Austin. I hung out with them for 30 minutes until we went our separate ways for the start. They had a nice medical tent at the start handing out advil and sunscreen.

I lined up around the 4:45 pace group. Since my mindset was to treat this as a long training run, my plan was to take it easy, avoid injury to my ankle, and just try to stay under 5 hours. I did not plan to run hard or try and PR. I did not check the watch or mile splits until about 9 miles in. At that point I passed the 4:30 pace group and I was feeling good. So I decided to screw the plan and see if I could PR (faster than 4:38). Then at each waterstop I looked back to see how far behind the pace group was. I did not speed up, but did not slow down either. I started to regret the lack of focus before, and not lining up at the start with slightly faster runners to pace off. What the hell was I thinking calling this a long training run. It's a race, damnit.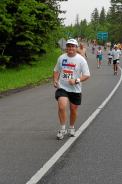 The first 18 miles followed the north shore scenic drive from the town of Two Harbors to the edge of Duluth. This road ran along the edge of Lake Superior and where we came close enough to the water, there was a nice breeze. There was not much variance in the scenery. It was a bunch of small rolling hills. There was not much access for spectators, but where there were crossroads that allowed access, there were a bunch of people cheering.

Water stops were every two miles serving water and Ultima sports drink. I had not trained with Ultima, and could not stomach it at first. But after a couple of miles I took a cup every other waterstop. Some people who lived along the road had their garden hoses spraying mist at the edge of the course.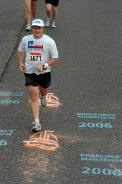 I was practicing running the tangents when the course curved, and wondering why no-one else was. But then every time an ambulance needed past (lack of side road access meant emergency services needed to drive through the marathon course) the runners had to move over to the left lane and that movement negated any savings from running the full tangents so after a few ambulances I then kept to the middle of the road.

I stayed ahead of the pace group until mile 18 when I started feeling the wall approaching. I had to slow my pace and I watched the 4:30 pace group slowly pass by and pull away. At this point we moved away from the lakeside and associated breezes, so it became harder and hotter as we entered the town of Duluth. I lost sight of the pace group by mile 20.

It was humid and hot the last 6 miles. My legs would not move as fast and my stomach started to get a little upset, so I dropped my pace about 2 minutes/mile and tried to concentrate on finding a pace I could sustain without stopping to walk and without throwing up. At mile 22 there is the largest hill of the course, and the top is the intersection that represents the northern most end of I-35. This broke a lot of runners, but it was not so much of a hill compared recent training runs in Texas, so I was able to keep running past everyone.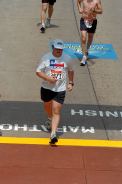 These northerners are not used to the heat, but for me after training in the Texas heat, it was only mildly uncomfortable. I saw very few people still running from miles 22-25. So even though I was slowing down, I was still passing a lot of people. At mile 25 there is a short downhill where felt my calves were really tightening up. Then from that point, a bunch of people took off running as we got closer to the finish. I finished in 4:50 which is my 2nd best marathon finish out of 6.

At the end there was the typical runners food, ice cream, and yogurt smoothies- and a beer/wine/soft drink ticket for each runner. The race was well organized, except I could have done without the karaoke contest at the finish line. Listening to one guy sing made me cringe, and it was the last thing I wanted to hear while I was trying to recover and untie my drop bag. I walked back to my parents hotel at mile 25 for a shower and lunch. When I got out, the weather had changed from hot and sunny to a nasty thunderstorm. Had the rain come in the last 6 miles, I probably could have shaved 5-10 minutes off my time.

I spent the rest of the week at a cabin on the edge of Lake Superior. I read Gilbert Tuhabonye's autobiography, which was excellent. I was too sore to run for a few days. So I rented a bike and did a few rides along the coast to recover. The lake water is between 32 and 40 degrees, so I went there twice a day to soak my legs to recover. I have not taken a trip in a long while without a fast paced itinerary, and just relaxed and did nothing (that is, for the week after the marathon), so this was a nice change of pace.

I was sorry to miss the Belt race in Austin, but this race felt good. It almost makes me sorry I did not sign up for one of the other big fall marathons before they closed (Chicago or marines corp) but perhaps I'll have to select do another long trail race instead.

Race Statistics:

Start line: 64 degrees, 90% humidity. 77 degrees when I finished.
9500 registered for the marathon. 6909 finished.
4500 volunteers for the marathon, half-marathon, and 5K races
This was the 30th anniversary of Grandma's marathon.
3 women from Austin were in the top 100 female finishers. 1 in the top 10.
More people sought help in the medical tent than any other Grandma's marathon.
13 runners hospitalized, 410 sought help in the medical tent.
1 man had a heart attack after crossing the finish and was revived with a portable defibrillator.
The 1st Grandma's Marathon 30 years ago had 117 finishers and cost $3.00 to enter, $65 today.