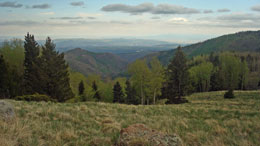 Several of us met Thursday to fly via Dallas to Albuquerque for the Jemez 50 mile or 50k Trail runs. I was in the 50k. It turned out to be the worst day to fly. When we arrived, the pilots hanging out in front of the airport gate warned us that backups caused by weather in Dallas would probably delay our takeoff four or five hours. We got it lucky. Once we took off almost 5 hours late, there were no additional delays. Throughout the day we heard stories of planes that, after circling Dallas for a long time landed in San Antonio to refuel before returning to Dallas. Others didn't arrive in Albuquerque until late night or the next day. We lucked out by staying on the same plane through Dallas. The flight from Dallas to Albuquerque left with 80 people on standby after other flights to Albuquerque were cancelled. One lucky standby rider explained the earliest he could get a confirmed re-schedule was departing Dallas 8pm the next day. Good thing we came an extra day early in case we got stuck in that situation. We finally arrived in Albuquerque around 7pm and got dinner at a Mexican Restaurant that had been recommended before driving to Los Alamos for the night.

The combination of long delays, altitude and the Mexican food left me with a bit of altitude sickness Thursday night, similar to what I experienced in Peru a year before. But after I slept it off it went away and I took it easier the next day. Some of us took a tour of the Native American Ruins at Bandelier National Monument before going to packet pickup and the pasta dinner.

Photos:
- Jemez trail run
- Bandelier National Monument



Run Start to Mitchell Trailhead 4.2mi : 721 ft gain / 555 ft lost
Race morning, we gathered at the Los Alamos County Sheriff's Posse shack for the start. I don't think it is affiliated with law enforcement, but rather it is a recreational pavilion that can be rented out. The 50 Mile, 50k, and ½ marathon starts were each staggered by an hour. The 50k start began moments after sunrise. The first ¾ mile was on road and that allowed the crowd to thin by pace before going through a short tunnel under the road and then hitting the single track trail. The next 3 or 4 miles to Mitchell Trail Head went through some mild rollers in a section of forest that was damaged by the wildfires a few years back. Here the early morning light illuminated the area perfectly and I felt compelled to get a picture even though there was nothing in particular to photograph.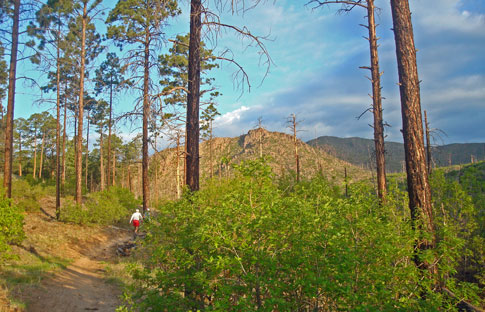 Mitchel Trailhead 4.2mi to Guaje Ridge 6.4mi : 1540 gain / 170 lost
After the first aid station, we began the first significant climb of 1500 ft towards Guaje Ridge. The whole mountainside had been burned by fire a few years ago, leaving lots of dead but still standing tree trunks and exposing views of the surrounding area. I took a few pictures upon reaching what turned out to be a false summit and then continued on to the top where there was another aid station. This was also the turn-around point for the ½ marathon race.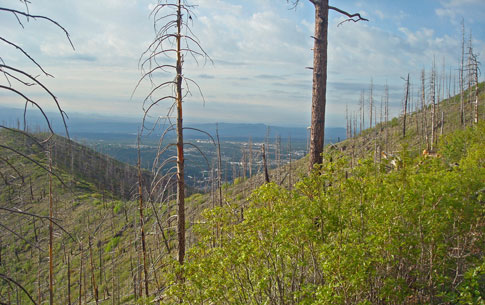 Guaje Ridge 6.4mi to Caballo Base 9.4mi : 835 gain / 1050 lost
It was a steep descent from Guaje Ridge along a narrow uneven trail. My extra weight compelled me to go a little faster when it was not too steep, otherwise holding back to be more cautions was hard on my knees. I could run most of the lengths of the switchbacks, but the turns usually sharp and involved a steep drop down a few feet to the next switchback and I had to take those one step at a time to avoid slipping. I passed Julia and Melissa in this section. Normally, they are much faster and I would never see them, but today they were taking this section slow and careful. Once at the base the trail flattened out and went a bit uphill.
There was a concrete Dam where we had to climb up a 12ft ladder. I found it good that I was holding only one handheld at that moment (the other was in my pack) so I could grab the ladder easier. Then the trail cris-crossed over a small stream several times. By the time I reached the Caballo base aid station it felt like I had gone a much shorter distance than 9.4 miles. At Caballo base, I was sorry to see another Austinite who I had met on the plane stopped due to altitude sickness.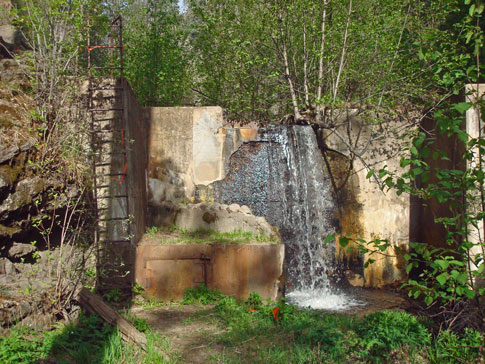 Caballo Base 9.4mi to Caballo Top 11.4mi : 1771 gain / 45 lost
Out of the aid station, there was a short climb and decent before the big climb. This was an out and back section so runners were already coming down. After a brief climb, the trail went down into a small gulley with a dry creekbed at the bottom before the big climb. Here, a runner coming down the mountain tripped on the trail 4ft above the gulley base where I was. I stepped aside just in time for her to land on her back and execute a fairly good roll and recovery. She stood up a little shocked but appeared to continue OK. What I didn't know at the time was that in a few minutes there would be a bear sighting from this same area. Aid station volunteers would eventually be dispatched to "shoo" the bear away. I wasn't aware of it until after the race when I saw some friend's pictures.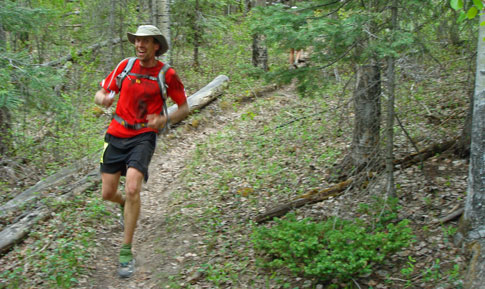 After that I saw most of my training group coming down the mountain including those who would get pictures of the bear a few minutes after they passed me. It was a narrow trail and I kept having to stop to allow runners coming down to pass. I snapped off a few
pictures
of people coming down that I knew, but the camera did not always work out in the shade. I never got into a good pace. Melissa caught up and passed about half way up. Julia caught up a few minutes later and I kept her in sight until the top. A
hundred yards before the top, we left the forest for an open field with views of the surrounding area. The top, at 10,500ft, was the highest point on the course. There was a quick turnaround where someone had a camera set up for a photo, and then back down mountain the way we had come.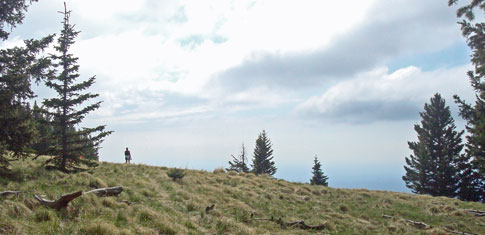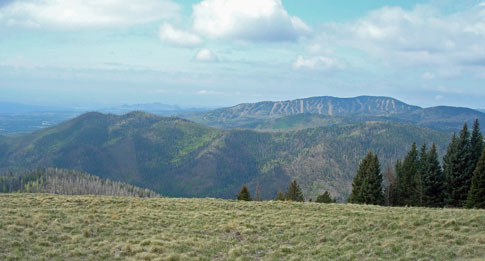 Caballo Top 11.4mi to Caballo Base 13.4mi : 45 gain / 1771 lost
It is funny how the trail looks steeper on the way down compared to the way up. It was too steep in a lot of places for me to really run and my knees started to bother me on the steeper sections. I never saw Julia so I figured she was well ahead. It turns out she must have stepped off the trail since she came up behind me as I approached the gulley at the base. I passed only a few people on the way down, so I knew I was near the back of the pack. Somewhere in this section, my watch battery died so for the next 10 miles I had little concept of my time.
Caballo Base 13.4mi to Pipeline 16.3mi : 1169 gain / 222 lost
Julia hadn't made it to the aid station by the time I left, even though she was within sight a moment earlier. I knew she was worried the night before about bears and actually jokingly in my mind commented she must have been snatched by a bear when she didn't appear at the aid station. It is a little funny since I was completely unaware that a bear had actually been spotted in the vicinity a short time before.
At first this section was not too bad and I was able to run a little. But then we hit the third big climb of the day that took us 100ft up. It was another steep climb that I could not run. I know I lost some time here. My calfs were burning. Julia caught up in the middle of this climb. Last time I was climbing mountains alongside Julia was almost one year ago exactly in Peru and so I had a moment of reminicing. She at first declined to pass me claiming to be no faster than me at this point. But once we hit a false summit and the trail widened she passed and quickly moved ahead out of sight. At the top of the climb the trail flattened out for a bit but my legs were fatigued from the climbs and descents, so I could barely muster a shuffle for the last mile or so into the aid station. This section felt a lot longer than 2.8 miles.
Pipeline 16.3mi to Ski Lodge 19.2mi : 629 gain, 293 loss
Our Coach Robert was volunteering at the aid station and was about to leave to return to the finish as I entered. Several of my training group were had already been to Ski lodge and back and were heading out for the final 10 miles as I arrived. I took a quick detour to look out over the cliff edge where 50 milers had to descend into the Vales Caldera National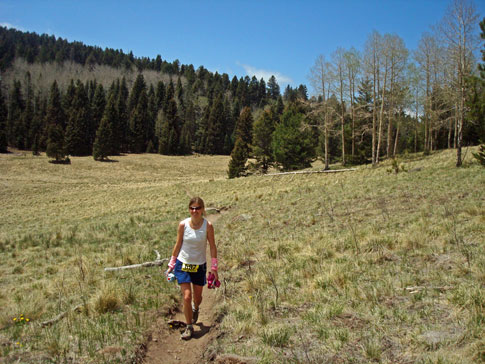 Preserve. But the 50k route instead was an out-and-back to the ski-lodge aid station over rolling hills and through an alpine meadow.
Again, I passed a few runners coming in the opposite direction and noticed some people must have dropped. When Melissa passed me coming back she said I had 1.25 miles to the end, so this meant she had gained 2.5 miles on me in a short time. Although I figured she sped up quite a bit once hitting runnable trail after the big climbs, still I knew that I had slowed much more than I realized without the benefit of a watch.
Ski Lodge 19.2 to Pipeline 22.0mi : 293 gain, 629 loss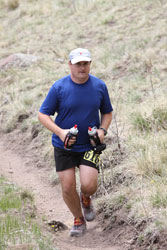 The aid station here had a bunch of good food and my drop bag. The 50 mile course meets up with us and follows the same course back to the finish. I had been carrying my pack with food, a wind jacket in case there was bad weather and with an extra water bottle that I had not used. So I left this pack in the drop bag and continued with only 2 hand held bottles and the gels I could carry in my pockets. I also got my spare watch here. A short distance from the aid station, I passed Robert who was hiking out from his aid station and then I walked a bit with a north Texas Trail runner. I never could muster a consistent run during this section. Maybe that is the price for taking the first decent hard and using up my quads. Photo at right from
Jim Stein.
Pipeline 22mi to Guaje Ridge 25.7mi : 316 gain, 1048 loss.
Even though this section was mostly downhill, there were a couple of steep climbs which I lost some time on. The first one came right after Pipeline where we followed a jeep track for a bit. My legs were shot, so I couldn't bring myself to run hard on the downhills. But I kept moving to get it done. In this section we moved back into the region burned by the forest fires.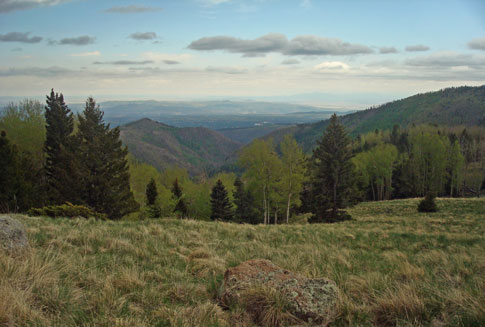 Guaje Ridge 25.7mi to Rendija Canyon 31.0mi: 36 gain, 1792 loss
Although this is the same aid station we stopped at earlier, we follow a different course around the backside of a mountain towards the finish. Lots of 50 mile runners are passing me now. This area is rather exposed due to the fires, and cold wind starts to come in, but not too cold. We get a few rain drops but it never starts to rain. I can barely keep a shuffle going even though it is all downhill. I have to climb over a few fallen trees. Eventually I get down to an altitude even with the town of Los Alamos which can be seen on the next mesa over. I haven't seen a trail marker or another runner in awhile so I ask a hiker who confirms I am still on the race course. The trail dips down into the valley between mesa's, and I know what comes down must eventually go up to get to the finish. The final aid station at the bottom has a Christmas theme going, and the volunteers commented on how all these Austin runners kept coming out of the woodwork.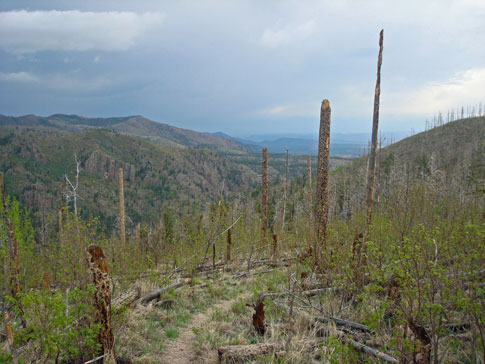 Rendija Canyon 31.0mi to Finish 32.9mi : 426ft gain, 206 ft loss.
There is one nice climb out of the valley from the aid station. The uphills were feeling better for me than the downhills at this point and so I could accelerate a little until the course flattened out. The course crossed through the same tunnel as earlier, but then followed a different trail toward the finish. There was a relatively flat section here for about a mile. This whole section seems the longest 2 miles I've ver done. JT, who was running the 50 mile race, passed me in the last half mile, but I did not recognize him until he was further ahead. Then it was one last short steep rocky climb up through a wash and then a few hundred feet along the road to the finish which for me was 12 hours and 40 minutes.
Finished!
There was barbeque at the finish, but it was not appealing at the moment so I did not partake of the finish line food. I went back to the hotel for a quick shower, and ate a couple of bananas and a cliff bar. Then we went back to the finish and a bunch of us hung out waiting for the rest of the training group to finish the 50 mile race. I heard stories from the other runners of the things that I missed such as sightings of fresh mountain lion footprints in the early miles of the trail, the bear sighting, and fresh deer kill.
This was a tougher course than I anticipated. Overall the weather was perfect. Cool, but not cold and it remained cool when the sun was out. Even though I was slower than anticipated (result of missing some of the training), my main goal was to make it through the training and race without injury after recurring ankle sprains last year, and that goal was accomplished. I don't know if I will come back, since there are many more races to try, but I would recommend it for people who want a challenge.
More Photos:
-
Jemez trail run
-
Bandelier National Monument