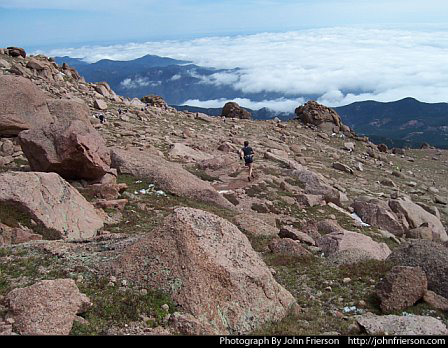 Links:
- Photo Album
- Austin Area Results
- All results
- Route info (from last year)

On August 20, I ran the 2006 Pikes Peak Marathon, which runs up a 7800ft elevation gain to Pikes Peak (14,110ft) and back down. Arkansas has traditionally boasted one of the largest contingents outside Colorado to participate in the races. This was the year that Texas runners (primarily from the Austin area) edged out other states for the largest out of state contingent. Registration for both the Marathon and the Ascent (half-marathon) filled within 24 hours when registration opened in March.

The large contingent from Austin was influenced by two people. Brenton Buxton has been stirring up interest in Austin for years. Brenton has run 20 each of the Ascent and Marathon, with 16 of those being doubles. The Double is running the Ascent race on Saturday, and the Marathon race on Sunday. But then the Texas group really grew when Steve Sisson started a training program for the Pikes Peak races through Rogue Training systems in 2005. The majority of the Austin participants this year trained with this group.

For me the story of this years race really started 1 year ago:


I finished the 2005 Pikes Peak Ascent making the cutoff by less than 5 minutes after neglecting to get a bad left ankle taken care of. After the race, I went to get an MRI. The doctor, who is normally very optimistic about recovery on previous visits for other problems, came in with a smile and said something like "let's take a look what we have here". But as he took his first look at the MRI report this "oh sh*t" look came across his face. He explained I had torn 2 of 3 major tendons (or were they ligaments - I need to go back and read the report) and had some additional damage and bone bruising around the ankle. He prescribed physical therapy, and when the PT first looked at the MRI report, she also dropped her composure to give an "oh sh*t" expression.

They told me there was a chance for recovery, but the damage was bad and there was a good chance that uneven trails might forever be too risky for that ankle or that I might need to limit my running to a 10K distance. So the last year had started out being about recovery and comeback as I went through a couple of months of physical therapy and then started the Freescale Marathon training to keep active, not sure if I would make it to that marathon.

Since then I have completed 3 marathons and a lot of trail running and the only ankle problems I have had were with the other ankle. Once I was recovered, I had to do this race again to see what I could do on a good ankle. I guess with so much torn, there is not much left to break and my left ankle bounces back quick. The right ankle is a different story…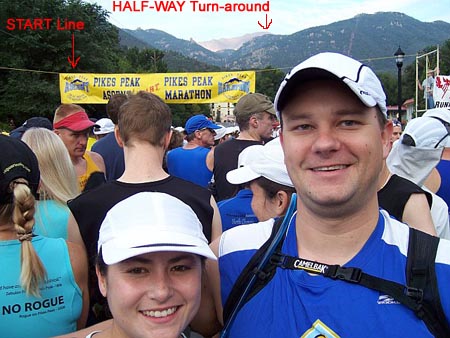 Marathon morning we lined up before the start line, I held my camera above my head to take pictures of the crowd. Seba jumped up to block the view but missed the shot. I think that could be an interesting picture, so I say lets try this again. He jumped once or twice before the camera is ready, and then we get once shot timed right. Then he realizes it's not the smartest thing to go jumping up and down like that before running up and down the mountain and so he stopped before I could get a good picture.
After the start, the course heads 1.3 miles up paved roads to the start of the trail. This includes the steepest incline. I walked much of this with a big group of Rogues bringing up the rear of the crowd. Many people start out too fast on this race and burn out early, so we are content to take it easy through the first few miles. I got to the first aid station at the start of the trail 4+ minutes behind the goal pace from the
calculator
. On one hand, this is a good thing because I did not go out too fast, but then on the other hand, it is a bit slower than I planned. If that delay propagates, I'll be way behind. Molly and Nicole ran the Ascent the day before, and were volunteers today handing out water. As I pass a couple of rogues posing for Molly's picture, she tells me to stop and get in the picture. I stop, and then realize I am loosing even more time. This could blow my whole race. Thank you Molly. It must be the karma payback for making Sebastian to jump up and down earlier :)
The next section is the second steepest set of switchbacks called the "W's". At this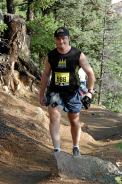 point everyone funnels into a single file line. I walked most of this section with 4 other rogues. Near the top of the W's the group I was behind started to pause a little too much, So I passed them to get into some space where I could keep a consistent pace. Although I was trying not to go to fast, I was supprised how quickly they fell out of sight.
A little ways after the NoName creek aid station around mile 4, the trail flattens enough to run a little. There is this one guy who every time I start to pass he either blocks my way, or sprints ahead only 100ft. Then he slows down enough so that I have to try to pass him again. I tried not to let him interfere with my pace and wish he would either stay ahead or fall behind. But after 5 or 6 encounters I am annoyed enough I kick it in as we approach the crest of a hill and leave him way behind after the short downhill. I run (or light jog) some of the downhills and flatter sections to get through Bob's Road aid station and beyond.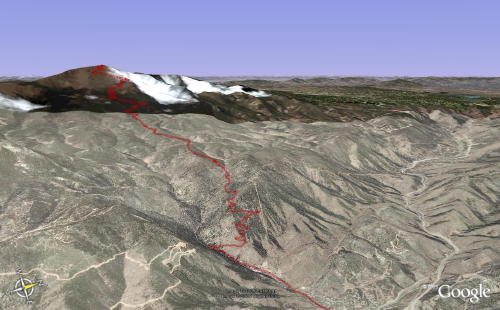 (GPS record, Click the image for full sized map)
As I approached Barr camp (around mile 7), the constant incline is back and I was back to power walking. I had gained back a little time according to the goal pace from the calculator. This probabbly meant I was going too fast, and my
heart rate data
seems to confirm that. Two of the Rogues I dropped who were hanging back and conserving energy passed me as we entered Barr Camp. After refilling my water bottle, I lost a few minutes when I could not get the lid to screw back on.
On the trek to A-frame (miles 7-10), everyone around me seems to have turned into walking zombies. As he passes me one guy says in a low monotonous voice "May I pass you, sir" and as he passes he stares straight ahead with a blank expression as if in a trance. It was a little weird and creepy. By the time I got to A-frame which is near the treeline, about 20 of the lead runners or more have come down after the turnaround and I lost 10 minutes off the calculator time since Barr Camp.
About ½ mile above treeline, I started seeing the first Rogues coming down from the summit. I was surprised to see
TJ
so soon, but he was running well after taking some time off to recover after Bandera. I had a small camera in a pouch strapped to my water bottle and take pictures of many of the Texans I know coming down. For safety, we are supposed to yield the trail to downhill runners. I would sometimes use that opportunity to take a picture, so I don't think the camera was slowing me down too much. I also tried to take some pictures without stopping like I practiced at the
BMTR
.
With 1-mile to the summit I found that I was tripping over my feet more than usual and was a little light headed. Since I had to step aside frequently to make way for down hill runners, it was hard to keep forward momentum.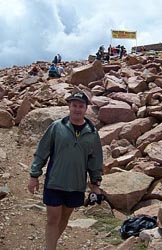 With just a few turns to the summit, I was having a little trouble walking straight. I stopped to catch my balance and Dan passed me, but then I see he was having the same problem with balance. I walked through the sumit turnaround at 5:48 into the race, and barely stopped for a handful of food before going back down. A volunteer offered to take a picture of me with my camera and the summit in the background, and then I was off. I passed Cathy and Emily within a couple of turns from the summit. The annoying guy I dropped earlier passed me before leaving the 16 golden stairs.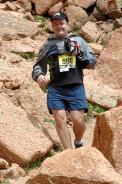 Stepping over some rocks, I came down a little hard on my right ankle, and I thought gave my self a slight sprain. So I ended up walking most of the first mile and a half of the decent and occasionally feeling some pain when I step funny. I ran a little in the last mile before treeline. By A-frame the ankle was not bothering me any more, but the trail was rough so I kept to a light jog. Halfway between Barr Camp and A-Frame I started running harder from that point.
During the whole decent I had to stop 6 or 7 times to empty gravel from my shoes. I did not take a single GU or shot block. Instead I took a handful of candy from each aid stop and that was all the sugar I needed. At Barr Camp threw some candy in my mouth, but it was the sticky gooey kind that my dentist warned me not to eat with the temporary crown. My crown popped out and I chewed it to pieces before I realized what happened. I spit it out, but saw it was not salvageable and so I threw the remains in the trashcan at the aid stop and went on. I passed the annoying guy from earlier shortly after Barr Camp.
I took some Gatorade at Bob's Road, but then skipped the remaining 3 aid stations and ran nearly all of the remaining up-hill sections. The whole way down I was visualizing the last mile, how I would use the last steep hill before pavement to build momentum and slingshot me down Ruxton into the finish line. Halfway down the W's the gravel building up in my shoe was unbearable, and so I had to stop one last time to take care of it. As I turned down the last switchback with a little more than a mile to the finish, I am thinking how good it is to be done, and how I met at least one goal of not having any Rogues pass me on the decent (except, of course for most of them who were already ahead of me). Then someone calls out behind me, "John! Lets run this in together." Rogue Emily has nearly caught up with Jeanette right behind her. I think I yelled back some encouragement, but then with some renewed motivation, I gradually took off, turned the corner, straight past the last aid station, slingshot down the last bit of trail, and down Ruxton avenue.
First I saw the Rogue posters someone put up. Then there is Julia, Rob, LT, and M who have walked up the hill. As I pass I tell Rob where I last saw his mother a few minutes behind me at the summit. At over 9 hours, this is the longest time I have taken to run a marathon, but it is the only one where I have had this much energy at the end. Normally I hit a wall by now, but I guess the wall in this race was at the half-way point, 13 miles behind me.


(I am but a blur, photo of my finish courtesy of Nicole - click to enlarge )
About a block or two before the finish, most of the Austin crowd has gathered to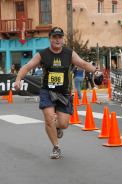 cheer on the finishers. Last year when I did the ascent, I was one of the spectators at this point, so I knew some of these guys had been here for a few hours after their finish and would be waiting for every last Rogue to come past. Still, I cannot say how good it was to have so many people I know stepping into the streets cheering me on as I ran into the finish in 9:18.
While waiting for the last few runners from our group to come in, it was interesting watching as the remaining runners finished and thinking about where I passed some of them on the way down and how much time I put on them in those miles. The annoying runner I passed 6 miles back finished nearly 30 minutes after me.
On the flight home, I had one of those TSA approved luggage locks on my checked bag. Despite that, they decided to cut it to inspect my bag. They did not cut the lock, they cut the head off the zipper that held the lock and then left me the lock inside the bag. I guess considering this was a week after a foiled bombing conspiracy was exposed in London, the security could have been a lot worse. After this race, I had the least soreness and quickest recovery of any marathon, so I suspect that means I could have run harder somewhere. Or else the training runs on the mountain last month really helped get me in shape.
Statistics:
Starting elevation - 6,295 feet (1,918 meters).
Summit elevation - 14,110 feet (4,299 meters).
Ending elevation - 6,345 feet (1,934 meters).
Net elevation gain to summit - 7,815 feet (2,381 meters).
Net elevation loss to finish - 7,765 feet (2,366 meters)
Distance: 26.21 miles
Average elevation grade of the course: 11%
698 Runners compled the 2006 Marathon ( 63 from Texas including 52 from the Austin area)
1639 - Runners compled the 2006 Ascent ( 43 from Texas including 31 from the Austin area)
110 - Runners compled the Ascent on Saturday and the Marathon on Sunday (12 from Texas including 11 from Austin)
Links:
Course Description
Course Pace Calculator
Pictures:
Link to full Photo Album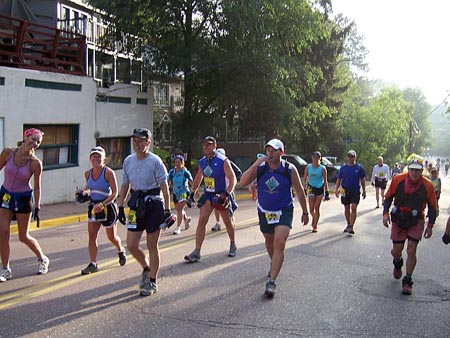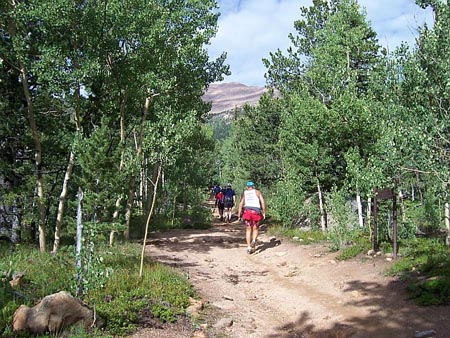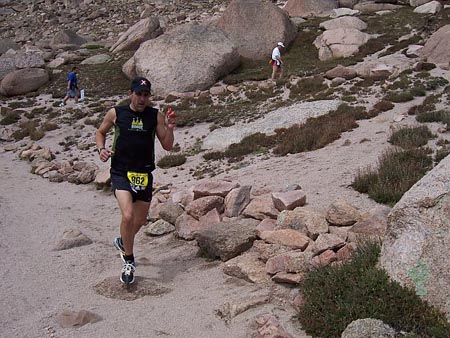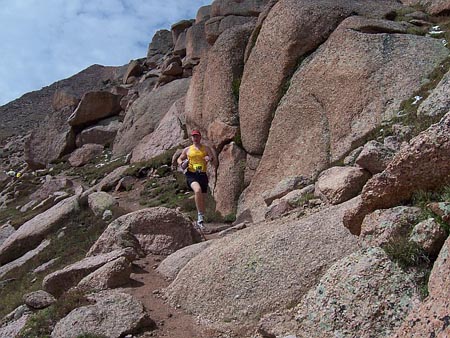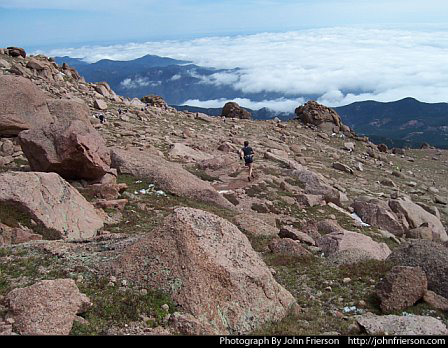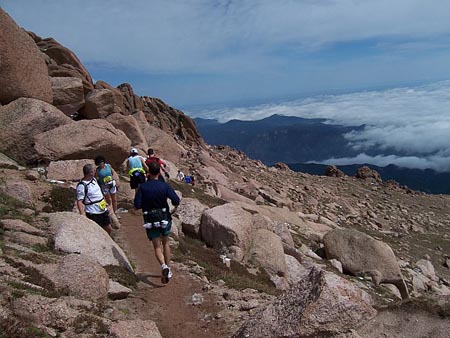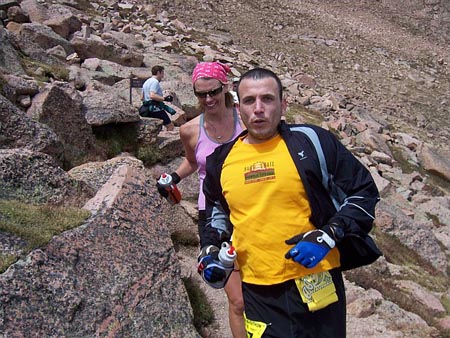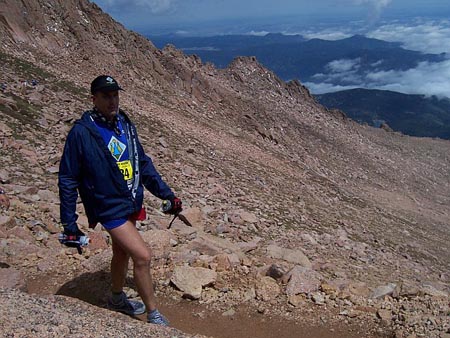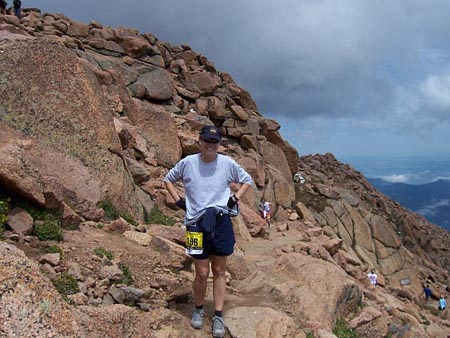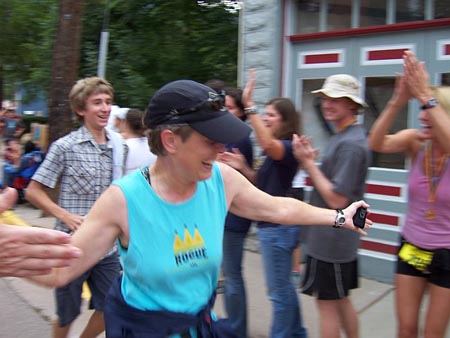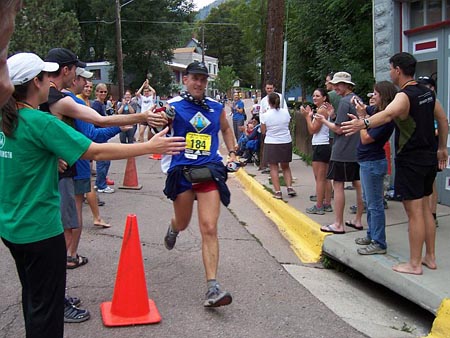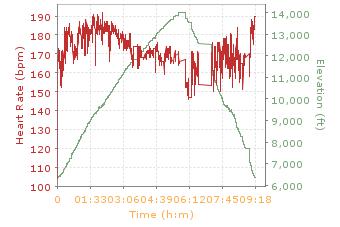 Click Image for larger view