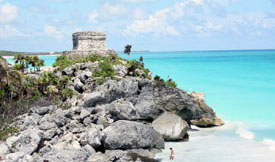 I completed the Cancun Ironman 70.3 Triathlon. Apparently races of this distance are no longer officially called "Half-Ironman" distance triathlons, but instead are branded as "Ironman 70.3" triathlons. The six of us who were racing arrived in Cancun on Friday, two days before the race. Three more spectators would arrive the next day. Belle and Russ had found us a good deal for a week long stay in two rooms at the Royal Caribbean, beginning Saturday. But for those of us who needed to get down a day early for packet pickup, we got a room next door at the Royal Islander. We had brought bikes with us, checked on the plane, and began to assemble them on the balcony as it started to rain.

On Saturday, there was a 7:00am gathering at the swim start we planned to attend. At 5:30am I woke to the sound of what I thought was one of my roommates showering. But it was not the shower. Instead it was rain. So we slept a little longer and after the rain stopped we went to check out the swim start area and have a brief swim. Then we checked out of the first night's room and put the luggage in storage, and then went to the Expo for packet pickup. There was a mandatory information session, but it had been split into two meetings. One session for Spanish and another in English. While we were waiting for the English session, checked out the expo and picked up the obligatory event T-shirts and caps, which we would need after the event to discretely show off the feat we would accomplish. There were not a lot of stalls here. I went to the bike shop stall to get some CO2 cartridges, which we could not bring on the plane, but they did not sell those here. Another in our group was more persistent and managed to get them to pull out their last 4 cartridges which we bought and spread between us. After the info session, we returned to the hotel, had lunch, went through a little hassle to get our bags transferred to the new rooms, and finally left to check our bikes into the transition area. The rains all day left some big puddles in the roads, so we did not want to ride to transition and risk problems. We took out bikes out to the main hotel zone road, and then got on the public bus to get to the transition area, which was in the parking lot in front of the Wet and Wild water amusement park. I lucked out and found that my assigned space in transition was right next to the Bike in/out access, which could not have been better. Only the pros were closer to that entrance.

Three weeks before, I did the Austin Olympic distance triathlon. I put together a spreadsheet where I extrapolated my Austin Tri times to the Cancun distances, and then added a 10% buffer in case I was slower over the longer distance. This showed me I could make the cutoff times at the end of the bike and run, but it only gave me 20 minutes or so to meet the cut-off time to complete the bike section. This meant I did not have time for flats or other problems.

Finally it was race morning. We took a taxi to the race start and put out stuff out in transition. We were not allowed to leave bags in the transition area, so we had to check them after getting our stuff set up. The swim course was a rectangular 1.2 mile single loop. It was wave start with waves leaving every 2 minutes. I was in the 4th wave. The storms the night before had knocked over part of the gate that had been erected for the start/finish chute. The water was clear and not too deep. The roughness of the swim came more from being battered by other swimmers than from the waves.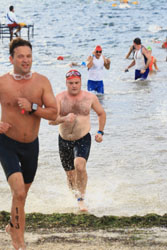 About 1/3 of the way through, we swam past a buoy, and saw scuba divers below holding it in place. Maybe it's anchor got damaged in the storm before? The course was a rectangle. I found my self drifting way outside the rectangle on the ocean side, so I tried to correct, but I ended up sighting off the wrong buoy and ended up a little too far inside the rectangle and had to go back out to avoid cutting the next buoy. Around the half-way point, the course got very shallow, and I suddenly had to swim around people in front who were standing up in knee deep water. I think the current was behind me more coming back, and I finished the swim in 47 minutes, 8 minutes ahead of my prediction. As I ran out of the swim, I had forgotten there would be people I know on the course, and so was a little startled when Brenda and Belle were there to cheer us on.

Hurricane Dean one month earlier had damaged a pier that been intended for use in the race. The result was the swim start/finish had to be moved down the beach a ways and now we had a 400 meter run to get to the transition area, and about half was on the beach. There were some showers set up as we left the beach (half-way through the run) to clean off the salt water, and then we ran through the amusement park to get to the bikes. I had forgotten to bring my race belt, so I had pinned it before the race on my bike jersey. When I tried to put on the jersey, the number ripped off. Since I did not need the number for the bike section, I left it in transition under something heavy. But since I was wet, my jersey started to roll up in the back as I tried to put it on. After I spent a minute or two trying to deal with that, a couple of volunteers in the transition area came over and helped fix the shirt from the back side. I then put an extra tube in the back pocket of my shirt and took my bike towards the exit. I happened to leave transition right behind Laura. We yelled cheers to each other, but then 30 meters from the bike start Laura turned around and Asked where my helmet was. Crap! I left my helmet in transition after my routine got interrupted with the Jersey issue. That was a major rookie mistake, thus continuing my streak of being unprepared or doing stupid things at races. So I turned around and went back for it. I left my bike outside transition, and they let me back in avoiding the timing mats. I grabbed my helmet and sunglasses, and then was off. Good thing my transition space was next to the exit. I wondered if maybe someone tried to tell me as I was leaving the first time, but if they spoke in Spanish I would not have have recognized it. Laura saved my race with this catch.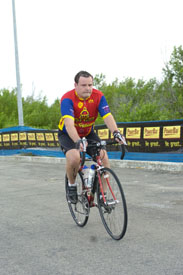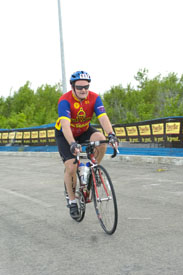 Starting the bike, with and without my helmet.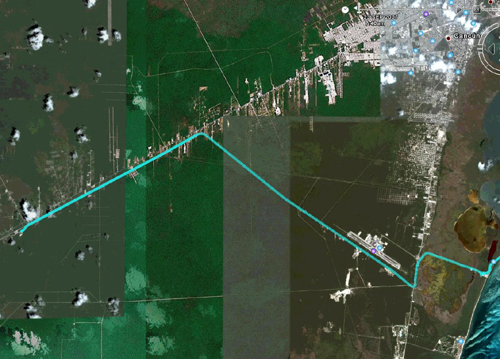 Bike Course - Start/finish is on the far right. There were two loops of the last large straight section on the left before returning to the transition area.
The first stretch of the Bike course was a 14 mile route out to a particular highway where we would do a two loops up and down the same stretch of road before coming back on the same route. Except for a couple of highway overpasses, it was pretty flat. I managed to average 19mph during this first stretch. There was one brief section with light rain and then it was sunny again. Then as I merged with the loop section, there were already people starting their 2nd loop. Two miles into my first loop, a heavy rainstorm came through. Visibility went way down. I have never rode a bike in such heavy rain, but it was past within 5 minutes and then it was sunny and steamy again. JAZ caught up to me as I hit the turnaround at the half-way point of the first loop. At each end of the loop, there was a water bottle exchange. I nearly wiped out when I missed one bottle pickup.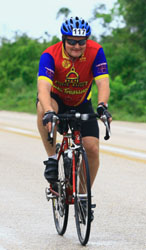 My bike jersey identified me as being from Austin, so some other Austinites, I think with T3 group, offered encouragement as they lapped me on the bike. During the back-half of the first loop, I made sure to take nutrition and finish a bottle of electrolyte drink. There were several large pelotons that formed, as many as 3 across and up to 30 or 40 bikes. I did see the course officials on motorbikes appear to be taking down numbers on a couple of occasions, but there was so much drafting there was no way to catch everyone. I let the pelotons push me off into the highway shoulder as they blew past. This may have led to a flat 2 miles after the end of the 1st loop. I did not notice my flat right away. I did notice my speed was dropping compared to the energy I was putting in and so I looked down and saw my rear tire was not full pressure. I stopped and first tried to pump it up with my hand pump in case it was not a real flat, but it turned out the breach was in the tire valve and so I had to replace the tube. Within two minutes of stopping, the neutral course support mechanic had stopped to help and he changed the tire real fast. So I did not loose as much time as I could have. The rest of the 2nd loop was a little lonelier since I had fallen behind and most of the faster bikers were already headed back towards transition. At the bottle exchange, some bottles had the Gatorade logo, and others had the Cancun Ironman 70.3 logo, so I held out for the 70.3 souvenir bottle. After finishing the 2nd loop, I turned back for the 14 mile ride to the transition. Immediately the rain came back and it rained for the rest of the bike ride. My average speed dropped over the last 10 miles, which had more up-hill than I remembered from the ride out. I finished the bike with almost the exact time from my Austin triathlon prediction.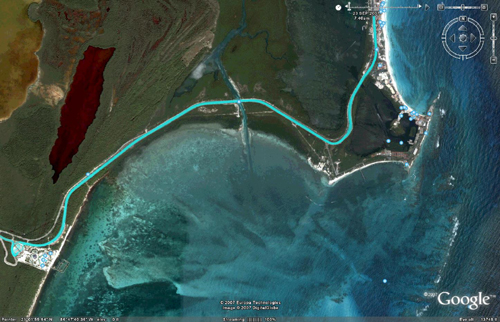 Run Course - start/finish is on the left. There were two loops of this out-and-back course.
The storms had really blown stuff around transition. I think the transition area volunteers had helped keep stuff in place because I found all my gear, some of which (ex: race number) might have blown away, were instead wrapped up in my towel. I pinned my number on my shirt. The cute transition volunteers came over to ask if I was OK, and then I was off. The sky was cloudy as I entered transition, but as I left the sun was out and the first mile was pretty humid. Belle, Brenda, and Russ had a cheering station setup with the Texas flag just outside the transition area.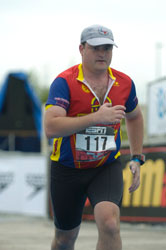 The run course was two loop out-and-back run along the Hotel Zone highway. During the first mile out, there were a lot of tables set up for water, Gatorade, and power bars and gels. Water was handed out in little plastic bags. You tear off a corner and drink some. It was a little more water than I need at a water stop, so I poured the rest over me to cool off. Aid stations were every 1km. At first I thought that would be too frequent and I would be skipping every other stop, but in the heat I at least took a bag of cold water to pour over me and cool down at each stop. In the first loop, I saw everyone in our group coming the other direction. The second loop was not nearly as crowded since many people had finished by now. As I approached the 8-mile marker, my garmin beeped to tell me I had just completed mile 65 since I turned it on at the start of the bike. I have never had such a long distance recorded on that device. I had to take a couple of extra walk breaks, but after the last turn-around, I was able to keep a more consistent pace, although it was not much faster than my walking pace.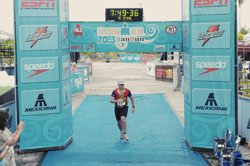 Some support tables had started to shut down, but the stops always had
frio
water. Approaching the end, there was about ½ mile after the 13-mile marker to the finish where I was expecting 0.1 miles to end the 13.1 mile run. I stumbled across the finish line with 19 minutes to spare before the cutoff. This was 2 minutes slower overall time than my calculated prediction. I got the finisher's medal and T-shirt, and then bypassed the food tables because I did not feel like taking anything yet. The fire department had a shower set up and so I got cleaned off. Then packed up my stuff from transition, and grabbed a cab back to the hotel with my partially disassembled bike in the trunk. This was a very well organized race. I would recommend it.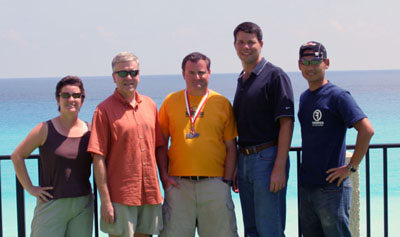 Five of the Six finishers from our group
That night I had steak for the first time in months and lobster tail. Then most of us stayed the week in Cancun to relax. We drove to Tulum one day, and then I did some snorkeling and scuba diving on other days. We stopped at an lagoon for snorkeling near Acumel (spelling?). I was not expecting much, but it turned out to be some great snorkeling. Calm water. Lots of fish. Some of them pretty big. Fresh water was merging with the salt water, creating this weird oily looking barrier. I kept noticing when the schools of fish disappeared and I stopped, the fish would suddenly be swimming by from behind. I realized they ware drafting off of me! I then started swimming backwards, kicking with my fins. Sure enough the fish fell in behind. Others fell in as we swam on. When I turned, they followed. Some bigger fish swam along for a bit inches from my face for a moment. But after a couple of turns the fish lost interest in me and I could not get them to follow anymore. On the scuba dive trip, we visited a shipwreck and the reef off the Cancun coast. A videographer followed us. I don't normally buy such videos, but this turned out to be extra well done. I found myself critiquing my swim form from the video afterwards. I have not been successful getting my PC to recognize the DVD, otherwise I would try to capture some images for this post.
Photo Album Link