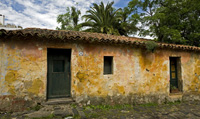 Last November, I had been staying in Buenos Aires for a few days before joining a tour through Patagonia. After reading this New York Times article, I had originally considered an overnight trip to Uruguay's capital of Montevideo to coincide with the Saturday art markets. However, due to some last minute changes in itinerary, my time in Buenos Aires was reduced so I opted instead for the half-day trip to the town of Colonia del Sacramento. This brief journey into Uruguay allowed me to check one more country off my list of countries visited because who knows when I would next have an opportunity to swing through Uruguay.

Colonia del Sacramento (referred to simply as "Colonia") is located an hour's ferry ride from Buenos Aires across the muddy Río de la Plata. It was founded in 1680 by the Portuguese as a base from which to smuggle goods into Buenos Aires. Later, it passed into Spanish rule. Now the original settlement has been turned into a historic district with small museums with lots of arts stores in the surrounding neighborhood, making this a tourist destination for day-trippers from Buenos Aires.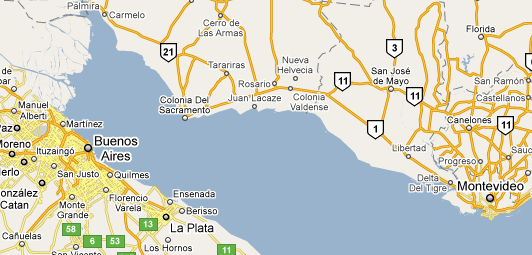 I caught the 12:30 ferry leaving Buenos Aires in the afternoon after running my remote version of the
Hokahay 5k
earlier in the morning. The same customs agents who stamp the passport for departing Argentina also stamp the entry visa for Uruguay, and the boat ticket doubles as the official tourist card visa that you need to hold onto to leave Uruguay. Since I don't understand Spanish, I did not realize this immediately and so was a little surprised when there was no customs check upon arrival. Fortunately, I held onto my boat ticket as a souvenir not realizing its importance.
Just outside the ferry terminal there were several open air car-rental stands. These were the type of stands where one would expect street vendors to be selling food or flea market items. Most the major car rental agencies we are familiar with in the US were represented including Hertz, Avis, Budget, and Thrifty. However, most the cars available for rent were electric golf carts. At first I thought this gave a new meaning to a "Thrifty" car rental. After more thought, I realized this option for most tourists was more economical and environmentally friendly than using a regular car since the average tourist would only go a short distance from the ferry port. The historical district was only a 10 minute walk away, there was not much car traffic, and few day trippers from Buenos Aires were likely to venture beyond that area.
Thrifty gives new meaning to the term "Thrifty Rental Car"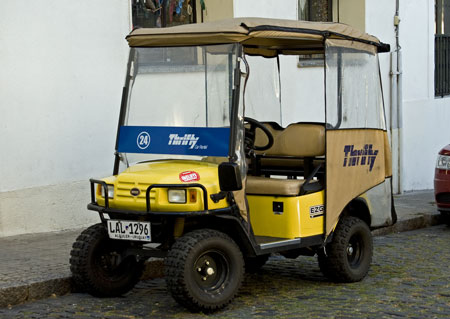 I hiked it to the historic district past an old abandoned rail station. The streets were well groomed in this area. There were an unusual number of classic looking cars parked along the side streets, all of which looked inoperable but were kept just clean enough as if they were put there for show.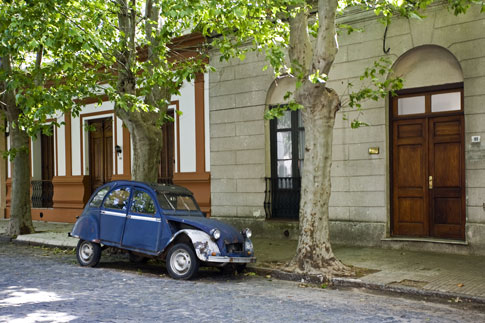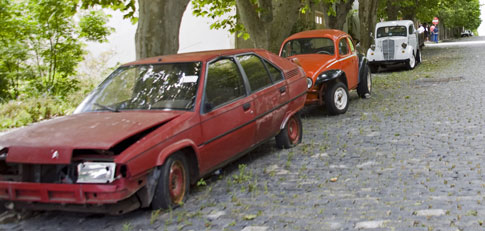 I arrived at the Portón de Campo (City gate) with its wooden drawbridge and picked up an English language map from the nearby tourist office. This historical district had several small museums scattered throughout the old buildings. One ticket gets you into all the museums. It was only now that I discovered that Uruguay was 2 hours ahead of Buenos Aires time, which meant that I had arrived after 3:30pm local time and had a very short time to make it to the museums before they closed at 5:00pm. I made it through a few of the more interesting museums before they started to close. Some of these contained artifacts from the original Portuguese and Spanish merchants, sailors, and settlers. There were also art and natural history museums.
Some colorful buildings in the historic district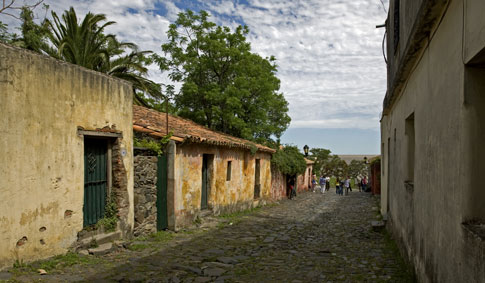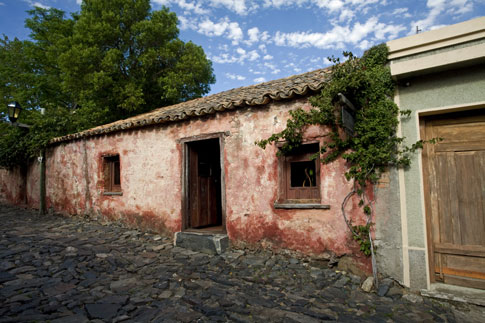 An old cannon located in front of one of the museums

I walked around some of the old cobblestone streets and ruins of an old Covenant and then took in some views along the river. After the museums closed I browsed through some of the nearby arts and crafts stores in the neighborhood. I did not realize it at the time, but the main church I walked past was the oldest church in Uruguay.
Oldest church in Uruguay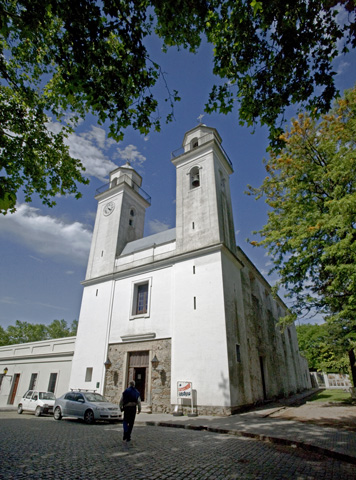 Decorative wagon in front of a cafe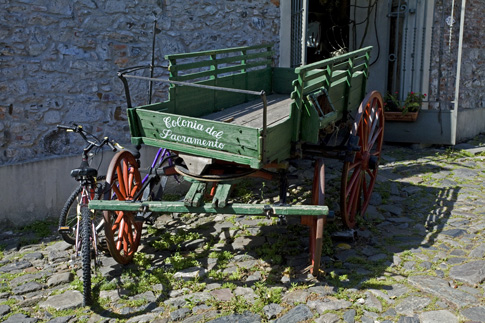 A dining table was set up inside this car next to a restaurant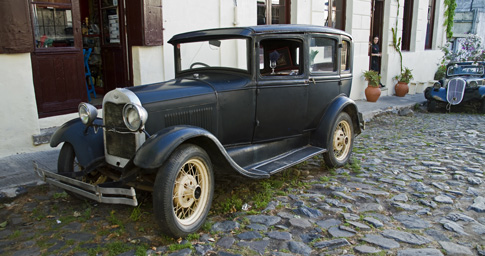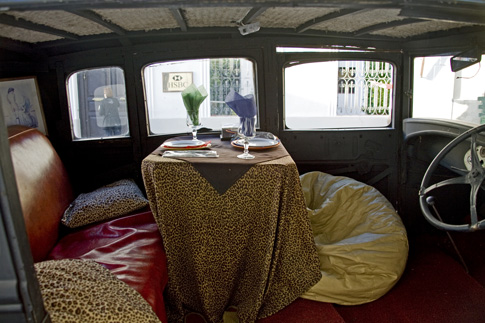 After I felt I had exhausted the possibilities for walking around, I grabbed dinner and a regional beer at one of the sidewalk cafes that catered to tourists. Since I had signed up for the later ferry back and had run out of things to do, I had a few hours to kill so I sat there and read a book for a little while. I probably should have taken the ferry two hours earlier and/or taken an earlier arrival ferry that would have given me more time when things were open. But I was not disappointed in this day trip. This was a nice half-day excursion, although the area I visited was sanitized for tourists and I suspect not representative of typical Uruguay.
Old-time looking kiosk selling refreshments.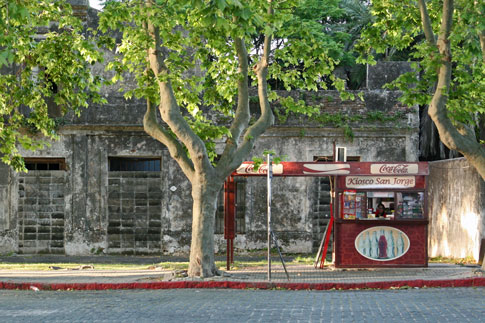 Sunset by the River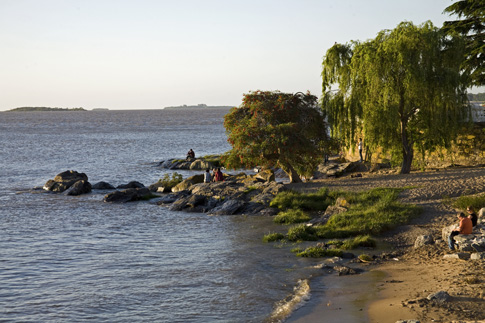 At sunset I walked back to the ferry terminal. I saw several tourists ahead of me in line who had lost their tourist card and were having trouble to pass through Uruguay departure customs. That is when I realized the significance of my earlier ferry ticket was also stamped with my tourist visa and was fortunate I still had it in my camera bag.
I dozed on the ferry ride back to Buenos Aires, and then walked back toward my hotel. Since it was getting late I opted for pizza take-out rather than stop in a sit-down restaurant. There was a small pizza shop half a block from my hotel that was always more crowded with locals than the other pizza places. It seems like every 3rd restaurant in this neighborhood was a pizza place. I guess this a sign of the influence of Italian immigrants. This shop had very few seats and most people were getting their pizza to go. There was only one size and choice of toppings – cheese with some sort of herbal seasonings. It was similar to New York style pizza, and was well worth the wait in line. At ~$3.50 USD for a whole pie one of the cheapest meals I had in that city.
For more pictures from Colonia del Sacramento, see the slideshow below (might not be visible from feed readers).
For better viewing experience see the phots instead at one of these links:
-
full screen slideshow
-
photo album
on Smugmug.