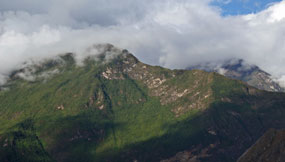 It's been awhile, but now I get back to writing about this trip from 1.5 years ago to Peru. I have been delayed in part because so much happened on that trip it has been difficult to condense into reasonable story. Plus, I lost my first draft of this write in a hard-disk crash last year and just now getting back to re-creating it.


BACKGROUND:
I traveled with a group I know through the trail running community to Peru for a 7 day trail-running/fast pack trek through the Andes. The trip was organized through
INCA Runners
, run by Roberto Carcelen, (watch for him representing Peru in the 2010 winter Olympics cross-country skiing). I wrote about part of this trip, before the trek in a previous post:
Part 1: Peru pre-trek
.
I almost did not go on this trip due to some things going on at work, but I decided less than one month before departure this was an experience I could not pass up. And my co-workers were not too impacted by my absence. The day after I paid for the trip, I sprained my ankle and so I begin the trek during recovery and uncertain how well I will manage. The doctor had advised not to try running for another several weeks, but I was not going to pass up the opportunity to take this trip. Worst case, I would have to ride some of the pack horses if I couldn't continue on my own. But I only wanted to take that option as a last resort.
The first day of the TREK:
In our hotel in Cusco, we woke at an un-godly early hour to board the van for the drive to Cachora. The itinerary had mentioned there would be coffee in the shuttle, but there was none, and our group gave Roberto good-natured hard-time for this oversight for the rest of the trip. It was a rainy day. We say lots of school kids hitching rides to school on the tops of trucks and construction vehicles. By 7am we had stopped in a small town for breakfast in route. We were there an nearly an hour while the owners prepared breakfast. We saw the owners kid run out, and return with fresh avocados from a nearby vendor before heading back out with school books in hand. I saw a group of pigs outside scour the road for food scraps. Another hour drive brought us to the remote town of Cachora where we would start our trek.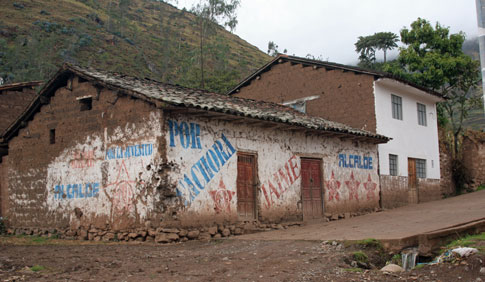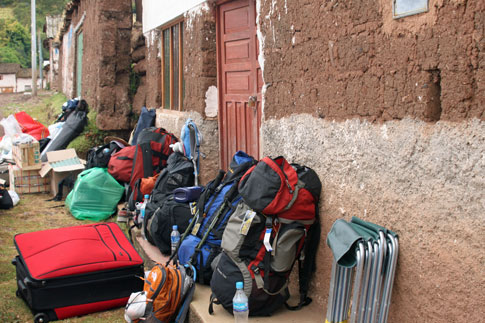 It was a couple of hours here while our guides and porters packed the supplies on the pack horses. We had too much supplies and luggage, and so extra horses had to be joined to the group. Our departure on the days hike was delayed, so instead of lunch on the trail, we ate at the home of Maro, the lead porter. Then we walked through the town and began our hike while the porters were still packing the horses. We started out on a dirt road, but immediately missed a turn and ended following the trail to someone's private farm. After a little backtracking we got back on the right route. That was the only wrong turn of the whole trip.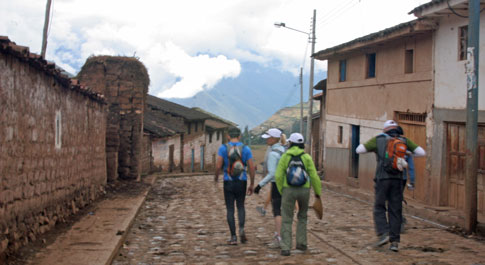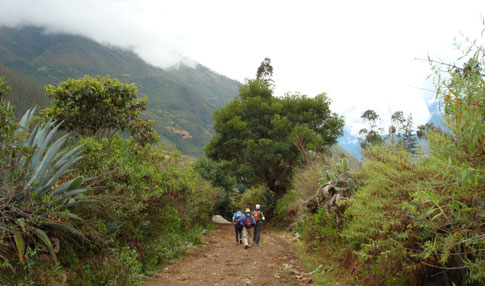 We had 3 guides for the 6 tourists who would go at different paces. Olympian Roberto went with the fastest runners. Hanny, who really organized much of the logistics, went with the middle pace, and David hung back with me at the slowest pace. I ran a little, but mostly walked out of fear of injuring my ankel. The first few miles of the trek followed a wide dirt road up to the until we got near the pass. On the way, the clouds broke and we got a glimpse of rainbow. It was very striking how steep the surrounding mountains were as we could look down on the rivers at the bottom of the valley below.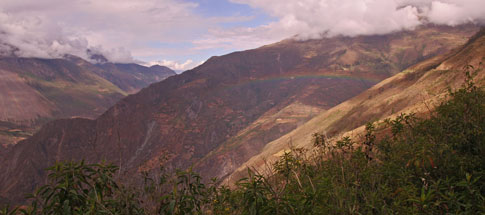 Our group re-grouped at the pass, the tallest point of today's hike. Everyone else who had been resting took off moments after David and I caught up, so we rested a couple of minutes before following. Then we followed a ridge before a rapid decent. Most of the group quickly moved ahead out of sight. The trail at this point was fairly well groomed, but it was a series of steep switchbacks. I found it much easier on my knees to run down rather than walk, and so I risked my ankle to take one really good run down. I dropped the guide way behind me, and so I waited at several points until I could at least see him behind. For safety reasons, we were not supposed to get too separated.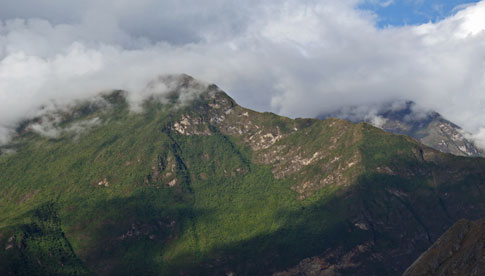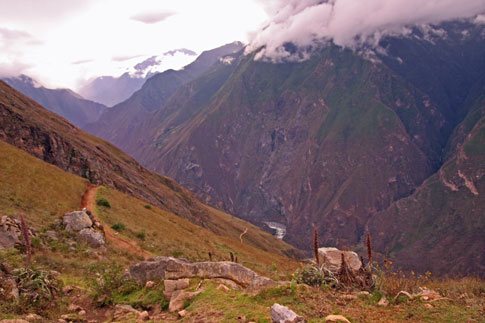 On the opposite side of the valley, I could see the trail leading up to the place we were originally supposed to camp, half-way up the mountain. Because of the late start, our camp was changed to a point before the river crossing at the bottom of the valley. Straight line, the original camp did not look so far away, but the path still had to go down several thousand feed before climbing back up, almost doubling the straight line distance to get there.
At one point I almost caught up to a few others who had paused to rest, but they moved on when I was only few dozen yards behind and quickly moved out of sight while I waited for my guide to catch up into visual range. Soon afterwords, I turned a corner and saw a camp ahead on the hillside. Considering how long I had been out, and how relatively short today's distance was to be, I believed it was our camp and so I took my time to take a few photographs of the hillside and rising moon. But it was not ours, and so I had to keep going. Before I rounded another corner I looked back to see David talking to the people at the camp, and made sure he was still following the same path as me so I would be re-assured I was still on the right path. Also, for saftey we were not to be too far apart. It took another 30-40 minutes of decent before I reached the camp. The rest of the group and guides were there waiting, but our porters had not caught up since they started later. And so we waited in the field, getting eaten alive by the mosquito like bugs until the porters caught up and we set up camp just as the sun went down. We had our first camp meal, and were much impressed with our cook Valentine.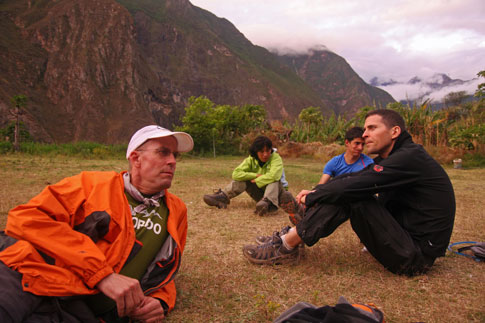 One day down, 6 more days to go before returning to civilization. The next day would turn out to be one of the most challenging, and there would have been no way we would have made it to the original campsite before dark. That will have to be a story for another post.
Statistic from our GPS on this day 1 of the trek:
- Altitude: Start 9366ft ; Finish: 6200 ft
- Max Altitude: aprox 10,400 ft.
- Ascent: 1045 ft ; Decent: 4100 ft.
- Distance: 7.3 Miles
More pictures from this first day of the trek: (
Photo album
)
About the tour operator:
- Inca Runners (
Website
,
Facebook
).
- Tour leader: Roberto Carcelen (
NY Times article
)