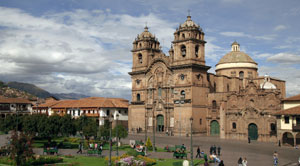 Earlier this year in May, I took a trip to Peru with a several friends I know from the Rogue trail running programs. The trip was excellently run by the tour company IncaRunners. It involved some sightseeing, and a week of trekking and mountain running through the Andes in the vicinity of Maccu Piccu. We ran/trekked over 6 days, 29,500 cumulative vertical climbing feet (max altitude just over 15,000ft), and over 28,000 ft cumulative decent starting in the town of Cachora passing via the ruins at Choquequirao and ending at the towns of La Playa/Santa Teresa.

Discussion on this trip began nearly two years ago when some people in our Pikes Peak training group were talking about the Inca Trail Marathon (Many of the "marathon" races along the Inca Trail which you are most likely to find on the internet are actually just organized private runs set up by a local tour company for tour participants). While most others moved on from that training to other diversions, one member of that training group, Dano, kept looking into this and linked up with IncaRunners via Google search to organize the trip, at first for himself, but he gradually pulled 5 more of us into it. Since I had done the classic Inca Trail Trek five years ago, and because of some activities at work, at first I was thinking to skip this and save my vacation for something new. But this was going to be along a different trail than the one I did before. The more I heard about the trip, the more FOMO fever I got, so I finally signed up with only 3 weeks before the trip. It was too good a trip to pass up, and I have no regrets. The founder of IncaRunners, Roberto, apparently felt the same and opted to guide the trip himself. Roberto is a native of Lima living now in Seattle. He arranged to stop off in Austin on his way to Peru a week or two before the trip to give us a briefing on what to expect. Dano went the extra length including graphics design and arranged for matching apparel, luggage tags, and backcountry toilet kits.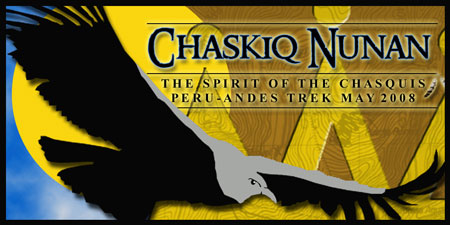 Luggage Tag design by Dan Keitz
The day after I signed up and paid for the tour, I sprained my ankle bad during a trail run. I stayed off it a week, and then started slowly trying to get out for some short runs. But no matter how good I felt at first, I would keep turning the ankle again. I was getting a little worried about the trip, but I figured if I had to ride the mules during the trek, then that is what I would have to do. I finally got into a doctor and got X-rays, which suggested a floating bone fragment (after the Peru trip, MRI's showed no evidence of a bone fragment).
I was hesitant to tell the doctor of the trip I was planning for fear of being told not to go. I was referred to physical therapy. At the end of the first session I told the PT I would not be able to come in for a couple of weeks because I had a week of backcountry trekking and camping through he mountains in Peru. He did not quite follow what I was saying, and he advised me not to walk around too much and suggested exercises to do in the hotel gym each night. I was afraid if I tried to explain to him that where I was going there would be no gym and, for some of the trip, no hotels, I might have been advised not to go. So I simply said "OK," and got out fast. I was already signed up, and so I was going even if I had to ride the damn mules if my ankle could not hold up. (when I returned from the trip, I was assigned to a different PT. I explained the activity I had done, and he agreed he would not have recommended the activity during the recovery, but he probably would have done the same thing in my place)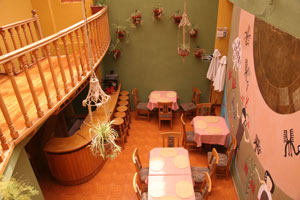 Dano went to Peru a few days early, but the rest of us left from Austin on a Saturday, mostly on the same flight. Most flights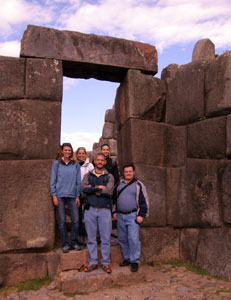 from the U.S arrive in Lima late night (9:30pm to 11:30pm) and so no-matter what our domestic routing, we all arrived at about the same time. Roberto's brother in Lima arranged transport to/from a hotel for the night, and then we flew to Cusco the next morning.
In Cusco at 10,800ft we would have a couple of days altitude acclimation before the trek. Roberto met us at the airport, and got us to a really nice little hotel (Hotel Eureka) a few blocks from the main square. We got lunch in a restaurant overlooking the Plaza de Armas, and then we had joined a standard ½ day bus tour of sights in and around Cusco, including Santo Domingo church, Sacsayhuaman, and and a few other sites that I also saw during my 2003 trip. Toward the end of the tour, I started feeling a little sick. When we got back to the hotel, the altitude sickness really hit and so I skipped dinner and tried to sleep it off.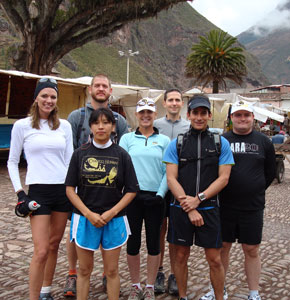 The next day started with a bus ride to the town of Pisac where we met Hanny, who would also be our guide along the trek. It was a steep climb of 1800ft over a little more than 3 miles up the mountainside to the ruins above the town. Once there, we got some excellent views of the Urubamba valley. Then we drove towards Ollantaytambo. Along the way we picked up Dano at his hotel and then toured the Ollantaytambo Ruins. As we left Ollantaytambo, we drove through festival in Ollantaytambo where people were dressed up in various costumes.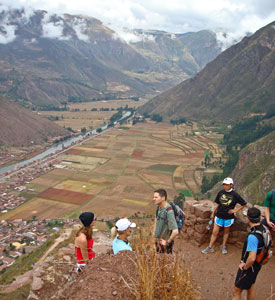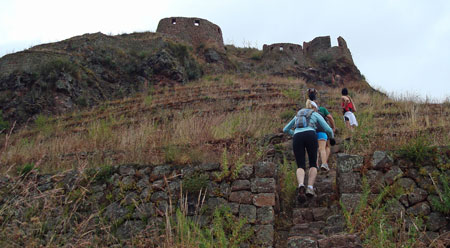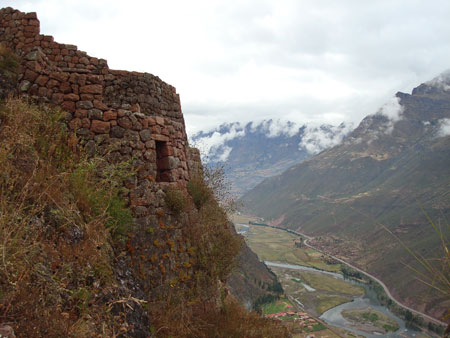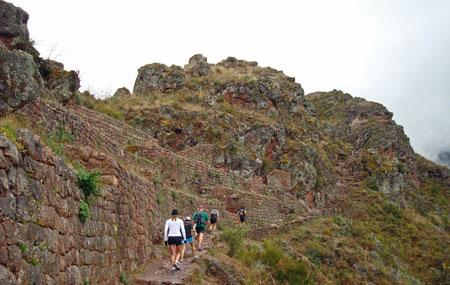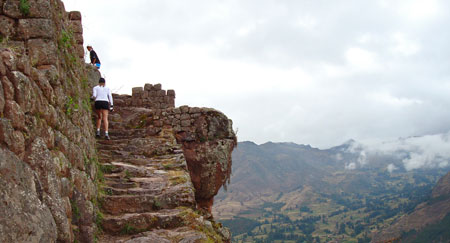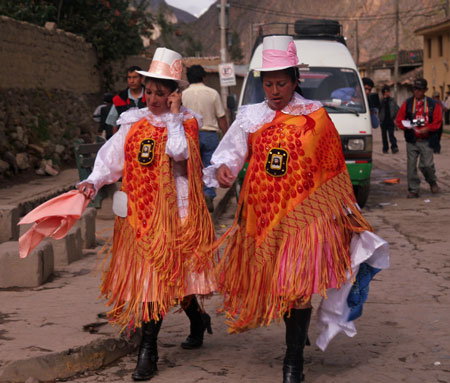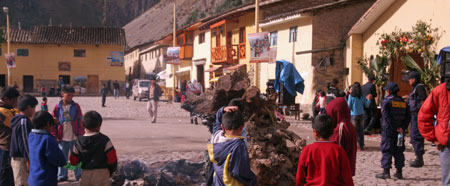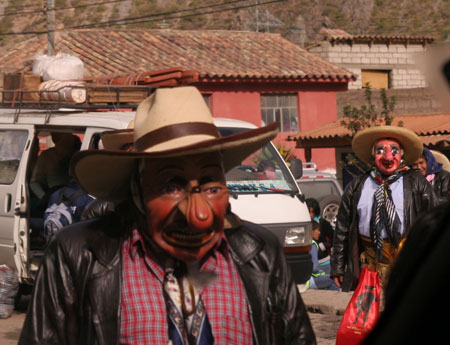 On the way back to Cusco, we stopped of at a place that sells the local corn beer, chica. There was another tour from GAP there, and one of our members recognized one of their tour as a business contact she had just met a few weeks before on a business trip in China. Weird coincidence. We had a couple of glasses of the very sweet beer, and sampled both the yellow and pink homebrews. A local woman was there who explained through our interpreter that she stopped by for 3 large glasses a day. There was a room next to the bar that housed a few dozen guinea pigs, the local delicacy. We tried out the local bar game which involved tossing large coins and trying to have them land in holes in a box. Different points for different holes, a concept similar to darts. Then, we drove back to Cusco, had dinner in a nice local restaurant before going to bed for an early start the next day.


The next morning we left at 4am and drove to the start of the trek, and then the real adventure of the trip began. But I will have to save that story for another post.
Links:
-
Pictures album
-
2003 Peru Trip Report