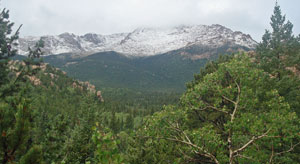 I wasn't planning to do this race again so soon, but then a family member offered to schedule her trip to Colorado Springs around the marathon if I wanted to go up for a visit. So, when registration opened in March, I signed up for the Pikes Peak Double – Half-marathon (the Ascent) to the top on Saturday followed by the Marathon, up-and-down, on Sunday. I felt if I was going to do this again, I needed to top my prior trip up the mountain.

My plan was to use training for the Rouge Trail 30K series in Austin to start the training and then continue beyond that with more running, and leverage vacation trekking and mountain running in Peru to build some mountain running endurance. But after an injury the doctor had me off my feet for a couple of months and that messed up my training plans. Since I did not get enough training in to be ready for the double, I had been telling people, including myself, that I was only doing the Ascent. But I held onto the marathon entry just in case. Once I got to Colorado Springs, it was difficult being here and not trying to do it. When I picked up the packet for the ascent, the volunteer said, so mater-of-factually, that I next I needed to go over there to pick up my Marathon packet, and then it was a done-deal. After that, I started to admit to some of the other Texans, and myself, that I was going to attempt the double. I figured I had a chance perhaps at a DFL (Dead 'effin last) pace, but in hindsight that was probably the altitude already affecting me.


THE ASCENT
On race morning the mountain was already covered in clouds and the prospects did not look good. I was thinking this might be a repeat of the
2005 Ascent
hailstorm I survived to get to the top, which meant there would be a good chance that the A-frame cut-off (an aid station 10 miles into the 13.3 mile course) would close early due to bad weather. In 2005, I heard thunder 8 miles in, and picked up the pace to slip through A-frame just before an early cut-off, and those I had been walking behind just before did not make it. The first wave started at 7:00am I was in the second wave that started at 7:30.
Starting out I also remembered that it was dangerous to exert too much early on and loose steam later, but this put me in conflict with the need to accelerate incase the cutoff came early. During the first 3-4 miles of single-track up the steepest part of the course I just tried to keep up with the person ahead, and not pass unless the person was particularly slow. This actually came to be a struggle, and quite a few people passed me and the group I fell in behind on the W's. Once we got to less steep parts about 4 or 5 miles in, I was able to pick up the pace, and started reeling past many of the people who past me earlier. I didn't linger at any aid stations and did not pull out the camera because I did not want to take time for anything un-necessary that could cost me the cut-off. Checking my splits, I was on track to meet the normal cutoff time with plenty of time, but I felt I needed to speed up in case the cut-off came early. About ¾ mile before Barr Camp, with the weather starting to worsen, I started to push a bit harder and was surprised how much energy I had to propel me, still walking uphill, but at an accelerated pace. I just concentrated on picking out people ahead and gradually moving past them without over-exerting myself, because spending too much energy now would still kill me for later.
Sometime above Barr Camp after the "5 miles to go" sign (meaning I was more than 8 miles in), runners started coming back down the trail telling everyone that the A-frame cutoff was shut down early due to severe weather on top. Runners coming up were in denial at first, some demanding to know who was actually on at A-frame. Most runners coming down had not actually been there to know first hand, so there was some discussion trying to determine if it was real or false rumor. But it was not long before the sheer numbers of people coming down and with the thunder heard overhead, that it was clear it had to be real and the race was over. So I tuned around to begin the 8-mile return journey to the start line. When we got back to Barr Camp the race volunteers were tearing bib tags (to account for everyone) and telling people to go down the mountain.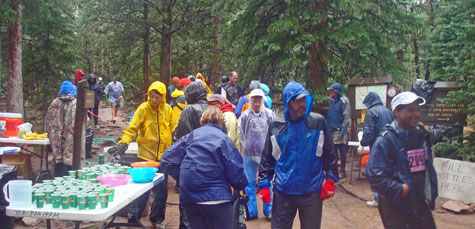 Participants turned back returning through Barr Camp after race was called
I took it easy on the downhill to save energy since I had another chance for the summit on the next day. I wasn't in a hurry because knew I would have a long wait for my drop-bag to be returned from the summit to the start line. Since my keys were in the drop-bag, I couldn't go anywhere until I got it back. The early closure was not too much of a disappointment since it was not entirely unexpected, and I had completed this course before. I actually enjoyed the run down the mountain, happy to be able to still be running and in the mountains. Once we hit the W's, it became more uncomfortable since 100's of runners bunched up here. It was a bit dangerous as trains of people passed slower trains of people around the sharp turns.
Once I hit the asphalt on Ruxton Ave, I just walked the rest of the way to save energy. At the end of my 16-mile round trip, Food was served at the community center next to the startline for returning runners. This was mostly Subway subs and Domino's Pizza. I hung out there for a couple of hours waiting for bags to be returned. The bags finally came down around 3:00. The race director announced that they would give out finisher's medal and jacket to everyone was turned around in about an hour. But, I did not make the top, so I didn't think I would be comfortable wearing it and I did not wait around any longer. There was perhaps some controversy to give finisher's items to people who did not reach the summit, contrary to statements in the official participants guide. But the race director figured that since many of these people put in as much as 20 miles in bad weather, they deserved some reward. Besides, what else would he do with 1000 surplus finisher medals and jackets?
Later, I learned that only ~750 of the 1800 registered runners made it to the top. Everyone else (most of the 2nd wave) was turned back. All but the last dozen finishers in the list I saw had a 4:45 ascent or better, which was much faster than my PR. Considering this, and the fact that I was in the 2nd wave, and my conditioning at the time, there was probably no effort on my part that could have gotten me through A-frame in time. From talking to a few people who made it to the summit, it sounds like the weather and hail above treeline was worse than what hit me during the
2005 Ascent
. One friend who made it had some mild frost-bite symptoms on his finger tips (numb, and itchy for days later).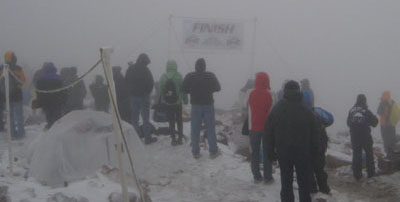 I am not sure who to credit this photo to, but it shows the white out conditions at the Ascent finish.
The MARATHON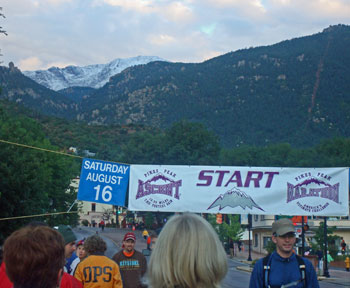 On Marathon morning I got my first clear view of the peak. It looked like it could be a good day, but the start line announcer explained they were expecting 1-3 inches of snow, so we shouldn't be surprised if the course closed early. But as we started heading up the hills of Ruxton Ave, I could already feel yesterday's effort taking its toll. I hit the W's at the back of the pack. Normally this stretch of the race is one continuous line of people for the next 3 miles, but I was so far back. Including the Barr Trail race, this was my 5th race up this part of the trail, and the only time there were so few people around me up the W's. There was hardly anyone to pace off of or focus on passing.
I made it up through Barr camp about a little slower than the day before, with 1:20 to get the 2.6 miles and 1700 vertical feet uphill to A-frame before the next cut-off. But I was only traveling 20-30 minute miles at this point, so it was going to be close. My shoulders and arms were unusually sore, and I felt like I had been in a bicycle wreck. I remembered the extra energy I was able to push through this section the day before, but I did not have that today. I lost the mental game during the last mile to A-frame, and lost my focus on forward momentum. I made it to A-frame as the cut-off was announced, but I was ready to turn back. Even if I had pushed a little faster to make it through, I probably would not have made the last cutoff at the top. We got some light hail and snow as I started the decent back down. I figured this must have been worse at higher altitudes. As I got a mile and then two down from A-frame, I was passing piles of snow and hail that were not there on the way up. By the time I reached Barr Camp, it was sunny again. A mile or so below Barr Camp, I was running on a downhill section when I got stung by some kind of insect, just above the ankle. It must have been a bee or wasp but I did not actually see it. I reached down to swat at it and muscles up and down my back cramped up, so I stumbled like the hunchback of Notre Dame for a few steps until I could regain my composure. I had to walk for a little bit until the pain from the sting went away.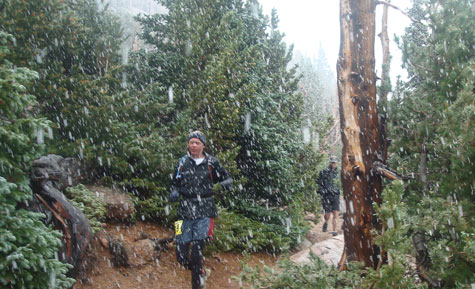 Snow just below A-Frame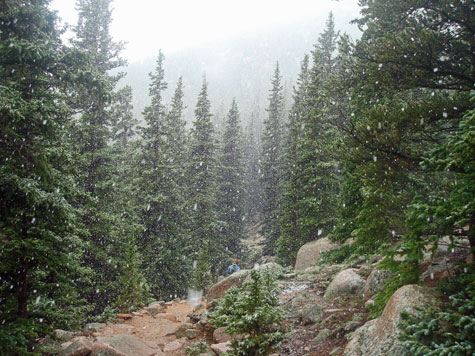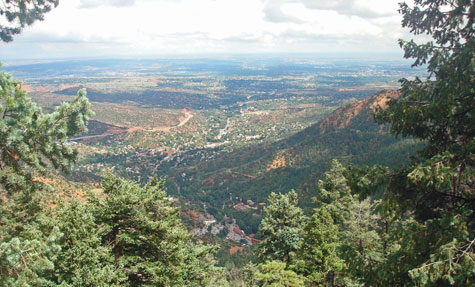 Sunny weather at the base of the mountain
In hindsight, I wish I had recognized from the weather at the startline on Saturday morning that I probably would not have made the Ascent. Given the weather, it was fairly obvious that the course would close early. A smarter decision would have been to skip the Ascent and save my self for the marathon. But, summit fever would not have allowed me to consider that. Although I did not make the summit, I got a good 37 miles of hill training this weekend towards the next big run.
Related Posts:
-
2005 Ascent Race Report
-
2006 Marathon Race Report
-
All Pikes Peak related posts