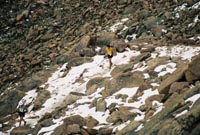 In August of 2005, I ran the Pikes Peak Ascent, (13.2 miles) that runs up the face of Pikes Peak mountain. Others ran the full marathon the next day which runs up, and then back down.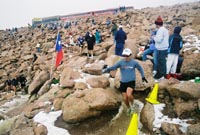 Sample pictures: (click a any image in this post for the full size image)
Race Reports
Pre-Race:
On Thursday I took an early morning flight to Colorado Springs, and went straight from the airport to packet pickup and then to the hotel. In the afternoon, I went for a run. I planned for a 30 minute up and then back starting at the finish, and then going up Ruxton and the start of the Barr trail. I started with a slow jog, but half way up Ruxton I am out of breath and starting to get a headache, and cannot get into a steady pace. I went up a few switchbacks on the Barr Trail, but I am out of breath too quickly and my confidence is shaken. I am not sure if this was the result of attempting too aggressive a workout for the 1st day at that altitude, only getting a few hours sleep the night before, or missing too many workouts. At this point it really hits me to realize the enormity of the task ahead.
Friday I met up with some of the Rogue group at the cog rail station for a preview of the start of the trail. I learn here that I took the wrong trail entrance the day before. This time, with Sisson's advice, I don't start out too fast and follow the group powerwalking up the first few switchbacks. This time I felt good the whole way and my confidence was restored. This enforced how important it is not to start out too fast on the Ascent.
The Ascent:
I got to the start area and mingled with other Austin runners in front of the Pikes Peak Hotel while waiting for the start. In previous races I tried carrying a disposable camera, but the pictures never came out. So this time I had a small digital camera that I planned to carry. I had been running with it for the last couple of weeks to get used to its weight. Just before the race I try to take some pictures, but the camera is not working. No pictures today.
As the race starts I am walking with Elle, Lauren, Mike, Emily and David. Their power walking pace is faster than mine and I do not even try to keep up. Today my goal is to go slow and steady. I will try to maintain a 5:30 pace according to Matt Carpenter's pace calculator, at least to the tree-line. I am hoping that would leave me enough reserve for the 6:30 cutoff if I loose time towards the end. I have a printout of the pace table in 30-minute finish increments in my pocket.
Much of the Austin group is cheering us on a couple of blocks up Ruxton. I drop off my dead camera with Abe. Don't need to be carrying that dead weight. Then I realize I forgot to start the stop watch at the beginning, so I do not know exactly how much time has passed. As we start heading up the W's, one of the Arkansas ascenters asks to compare GPS distance, and so I learn from her I need to add about 9 minutes to my time. I follow in the line of lemmings up the switch backs trying to keep a steady pace. A few people pass me, and I pass a few people only when a gap opens in front of them and I can pass without exerting extra energy. By keeping this pace, I then overtook most of the people who passed me within a short distance after the rock arch. This makes me feel good. As I pass some landmarks, I decide not to look up where I am at on the pace table since I am comfortable with this pace.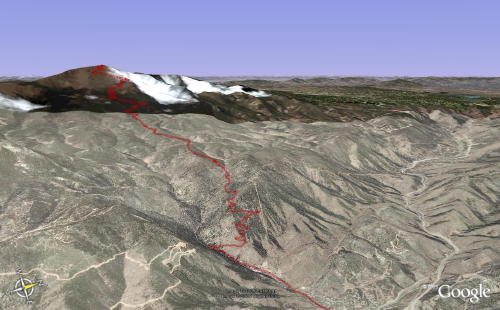 (Click the image for full sized map)
I pass through a couple of aid stations and take grapes, pretzels, gatoraid and water, but try not to stop. I get to talking to a woman from Tulsa who has done this before and thinks we are on a good pace for a 5:15 finish. Then all of a sudden we are at Barr Camp. I realize my fingers are starting to puff up. I had heard this might happen, but was not expecting it so soon. I stop a couple of minutes to re-fill the camel back and get out a power bar. I check the pace table and it shows I am just under pace for a 5:30 finish. As I head out, I catch up to Paul and his friend and walk with them for a mile or so. They are going a little too fast for me and gradually move ahead out of sight.
Between the 5 and 4 miles to go mark, I hear the first loud thunder. Everyone around me says uh-oh in unison. A few people make comments about turning back for the weather. I start worring they might cut-off at A-frame early, so I try to maintain pace to get their in time. After the 4 miles to go mark, the thunder gets more frequent. It is a little strange since the sun is still out and there is mostly blue sky above. Now I am worried there might be an early cut-off due to weather so I keep going and don't stop for nothing. As I enter the A-frame aid station, I overhear volunteers telling each other there was a decision to maintain normal cut off times. I catch up to Emily here, and sit down beside her to while I pull out my tyvik jacket from the camelback. Emily gets up and proceeds without saying a word while I mess with my gear. Later she tells me she thought I had passed her at this station and did not remember me stopping. My fingers are bloated, and it is a little difficult to mess with the gear. I check the pace chart and it shows I am now on pace for around a 5:45 finish. It is overcast now as I head above the treeline. The lemming train missed a turn and now we have to back track a short distance and find the clearly marked turn that was missed.
As I pass the 3 miles to go mark I am excited because I cannot believe I am feeling this good after coming so far. I have a little more than 2 hours before the cutoff. I think I have plenty of time to spare. Then it starts raining, and quickly changes to light hail. It does not feel too bad yet. Then the hail gets a little larger (pea-size) and it starts to sting the exposed areas around my legs and cheeks. Around 2.5 miles to go I enter an area where echo is just right that I can hear cheering from the mountain top for a few minutes. I cannot see the mountain top through the fog. I realize later this is a good thing because several people had said that was discouraging to see the finish, but then take so long to get there. My pace starts to slow and many people who I overtook earlier start to pass me. As the whether gets more miserable and people start taking shelter underneath or against the rocks. I believe there is no benefit to stopping, so I keep going. I alternate between Leah's mantra "Relentless pursuit of forward momentum" and my own "don't stop for nuth'in, keep on going".
Around the 2 miles to go mark, I cannot take the hail any more, and take shelter by standing flat against a large rock. In the shadow of the rock I only get hit by a small ammount. After a minute or two I realize the storm will not let up, so I might as well keep moving up the trail. Back into the storm I go, but my pace has slowed to a crawl. Soon, the hail gets larger and now I can feel it bouncing off my head through my cap. Again I take shelter against a rock as a particularly hard wave of hail hits, and again I realize it won't be letting up, so I get back in the storm and move on. By now a good layer of hail and snow is packed in on the trail and it is a little slippery. Around the 1.5 miles to go mark there was a small aid station. I try to take some grapes, but cannot make myself eat much. One runner surrounded by rescue personell is shivering uncontrollably and the rescue person is calling on the radio for someone to bring down oxygen. As I try to step around this group, I nearly loose my balance and fall off the trail, which at this point is a little steep and rocky slope. I manage to keep going. At the end of the long switchback across the bowl, I look behind me and see about 30 people down the mountain. Half-way down the trail the chain of people stops, and I realize that must be where the cut-off at A-Frame occurred. I do not remember much of the rest of this mile. I think I might have paused again for cover.
As I get to the 1-mile to go sign, I notice despite the fact that ground is covered in white hail, snow and ice, everything is getting dim. It's tunnel vision. I take a deep breath and a few gulps from my gatorade flask, and my head clears up and vision returns. The last mile took me 50 minutes, and now I have less than 40 minutes until the cutoff. With new motivation I change my mantra to "I got to get the hell off this mountain" and continue up at an increased pace. Even though the hail is still coming down, I feel much better and alert. Eventually I come to a sign that says the golden staircase. The steps are a little slippery now, but I manage. After a few turns I hear some cheering. I look up and can make out the finish line not too far above. Another couple of turns and a search and rescue person asks if I am OK. I say yes and she asks me to tail a man who is having difficulty up to the top. I know it is less than 10 minutes until the cutoff, within 200 yards from the finish, and this guy is crawling on his hands and knees having difficulty getting over the steps which are now slippery with packed ice. I try to verbally encourage him. Then step around him and up the step. I offer my hand in assistance, but he insists he wants to do this on his own and that I should go on. As I take a few steps away, I hear several from the Rogue group calling my name. I look up and see several people standing on the rocks and yelling for me to run it on in. I cannot tell who it is, and I was not expecting too many of the Rogue runners running the marathon the next day to still be hanging around up there in this weather. I turn back to see if the other runner is moving, but he still is stuck on the step and again tells me to move on.
My delima now is whether I should follow the instruction from the rescue worker, or get across the finish line before the cutoff. It pains me to see the guy struggle like that, but I decide since he refused my help, and that we were so close to the finish with many more people around that he is not in serious danger. I rationalize that if he was in serious trouble, the rescue worker should have stayed with him or radioed for help. As I turn around to continue, Steve Sisson is there to tell me I need to get moving if I want to meet the cutoff. When I turned around to check on the other guy, the Rogue crew thought I was disoriented due to the altitude, so Sisson ran down to make sure I was OK. I made it through the finish line with less than 4 minutes before the cut-off. My hands are not working well, and I need help opening up my jacket so the race official can tear off the bib tag. I get the finisher's medal, and Kent herds me into the medical tent to warm up as someone hands me my drop-bag. I am asked to leave right away to make room for others in more need.
As I walk over to pick up the finisher's jacket, I am suprised to see many from the Rogue training group still hanging around to congratulate me for finishing. It turns out everyone got stranded at the top when the weather closed the roads. While greatful for their words of support, I am concerned this will hurt them the next day. They are out of finisher's jackets, so I head into the gift shop to warm up. It is packed wall to wall with people. I find a spot where there is enough room to slip on warm pants and a heavy jacket from the drop-bag. The gift shop/cafeteria workers were unprepared for this crowd and were not even aware that the race was this weekend. All food had been depleted.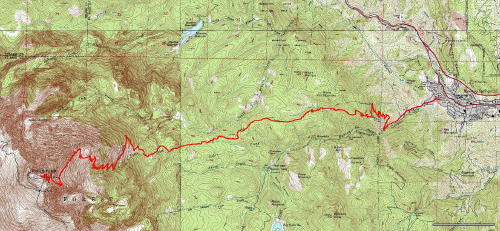 (Click the image for full sized map)
The weather soon clears and we walk out side. Huge lines have formed for the shuttles, but the lines are not moving and we know it will be a long wait since there are not many shuttles. There is a tourist train heading down, so Mike, Emily,
JT
, and I try to buy tickets on any empty seats, but the runners in line ahead of us get the last seats. An announcement is made the train will come back to help take runners off the mountain in an hour or two. But we don't get in line quick enough and a couple of hundred people get ahead.
We decide the lines for the shuttle and train are so long, we went and found a warm corner in the gift shop and wait for the lines to start moving. The gift shop workers start making requests for volunteers to help clean up the trash and ask if anyone has any extra baby diapers to share with families who have run out. After an hour and a half, the lines outside do not seem to have moved. After more than two hours, the train arrives. We hop into line and are some of the last on board. This time they let people sit in on the floor to get more people in. The conductor explains the train cannot depart until everyone is sitting and as long as there are not more than 250 people on board. He decides to estimate there are 248 people on board and we are cleared to go. The train ride was not too scenic due to the cloud cover, but I could not have seen much anyway from my seat on the floor. We get to the train station at the bottom around 5:30pm.
There are a couple of things impacted my performance that I will keep in mind when I do this next year:
If my digital camera had not broken down and I had carried it with me, I think I would have missed the cutoff. Either because I would have paused for a couple of pictures, or else the extra weight might have impacted my overall time by more than a few minutes.
I sprained my ankel a couple of months before the race. At first it seemed to be heeling by itself, but ocassionally I would step on a rock funny and pain would should up my leg. Also, after about 10-15 miles running, enough soreness would come up that I would need to slow to a walk. I did not go to the doctor before the race out of fear they would have me stop running for a bit. But after the race when I finally saw the doctor and had an MRI, it turns out I had torn 2 of the 3 major ligaments. I did have to take a month off from hard hilly runs. On the first visit to the physical therapist, she made an adjustment that snapped (literally) something back into place and after all the pain went away. The lesson learned here is not to put off seeing the doctor and taking care of myself.
Marathon day:
I got up early to see the marathoners start. I stop by to see if there are any finisher's jackets left over from the Ascent, but they were all gone. Went to Ruxton to cheer on runners and take a few pictures with my 35mm camera. Then I headed up to the top of the mountain with Ruth and Lauren to cheer on some of the Austin crew at the turn around point. BobJ was there and he set up a Texas flag near the finish. I position myself next to the flag to take pictures of Austin area runners. The weather is clearer now, and I can see the trail for several miles below. It gives a new perspective on where I was the day before. It is not too long before Ruth identifies the yellow dot that is Sisson on the trail below. Sisson makes his way up, and after a brief stop with Ruth to refuel is headed back down.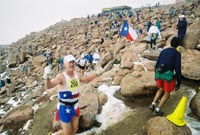 Not long after we watch Marty, Kent, Abe, Duane, Jon, Frank, Paul, Ivi, Lorana, Corey, and an unknown guy in a Runtex shirt go by. Clouds start to come in and a little hail, but nothing compared to yesterday's weather. We then went down to the finish line just in time to see Marty cross. Then crowd of Austin runners and family gathered a few hundred yards before the finish waited then next 4-5 hours to cheer on all the finishers we recognized from the Austin area up until just before the 10 hour cut-off when the last Austin runner came in.
After a tip from Ruth that there were some blue Ascent finishers jackets spotted where they were handing out the black marathon finisher's jackets, I checked again and was able to get the last Ascent finisher's jacket (I suspect it might have been a display copy).