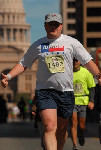 The Austin Marathon this year had a new sponsor and a new course. At the start, I started off slow up the first hill on South Congress. Quite a few people passed me here including the 9:45 group. I paused near the 2 mile marker to remove my throwaway long pants. Then I passed the 9:45 pace group before the 3-mile marker. The 9:30 group was already in sight. The course was pretty crowded through the first 5 miles until we turned on to Cesar Chavez. I finally overtook the 4:30 pace group at about 5.5 miles and took the miles until 8.5 a little fast until we turned onto Enfield where the hills began. Here I switched into energy save mode meaning I concentrated on not overexerting through the rolling hills while making sure I kept a reasonable pace. Here I was trying to save energy so I would be less likely to bonk at the end. I had been carrying a water bottle which allowed me to skip the water stops until mile 9. I had also been taking regular Endurolites and GU beginning at mile 3 and then approx every 45 minutes after that.

My 10 mile chip split showed I had averaged exactly my 10:14 goal pace to this point - which means I might be a little fast since we were supposed to take it easy through the hills. The 4:30 pace group caught up and passed me right at mile 11 when we turned onto 35th street and crossed over the last big hill over Mopac.

From this point I started to reel back in the 4:30 pacer. At each waterstop I had to slow to a walk but then by the next mile I had made up the distance back to the pace group. I stayed just behind the 4:30 group until mile 17 where I took a little longer to take a GU and the pacer pulled a little further ahead. I lost sight of the pacer after mile 19. For miles 18-20 I kept hearing people cheering for "El Rob" whose name I recognized from the Rogue forum. He must have been right behind me and so I concentrated on keeping ahead of him until he finally passed me and took off at the cliff shot zone.

Geezer and Ruth Anne were cheering right after the turn onto red river. We had an awkward moment when I thought Geezer was going to give the high five, but instead tried a handshake. WTF. But I am still grateful for them being there. Also Buzz was out on the course several places. The last few miles I realized I was not going to beat my 4:30 goal, so I concentrated on not giving up too much time each mile. By the last uphill to the capitol I felt like I could only give a shuffle. But once we got to the top I was able to speed up.

I had to make a decision at the hasher's beer stop. I had about 5 or 6 minutes to finish and beat last years PR. Should I stop or should I take the Beer. I had been using this stop as a mental motivator for some of the race. I did not know exactly how far I had but it looked like it was going to be pretty close. I should take the beer since my training group calls themselves the brewrunners. But I remembered I had a flask of tequila in my finisher's drop bag at the finish (lesson learned from an earlier coach last year's finish, so I skipped the beer stop and decided to go for the PR.

Running down congress I heard lots of people yelling my name and cheering. I don't know if it was people I know or people who read my name off the bib.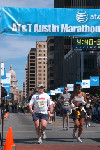 I knew every second down Congress Ave I saved was a second added to my PR so I just to run the last stretch as fast as I could go. I ended up with a PR by about 2 minutes at 4:36:01. That might have allowed time for the beer stop, so my decision to skip the beer stop seemed questionable.

In the end, this was just another marathon. I enjoyed the run, and I liked the new course. But just squeezing a few seconds off these PR times is no longer seems a major accomplishment. Next time I need to go for more significant improvement.

A few days later, at the brewrunner happy hour, I discovered 5 of the 8 people at my table also finished in 4:36, less than 1 minute behind me. This included Amy and Daniel who posted reports, and also Robyn and Sarah who sprinted past me in the final quarter mile of last years Austin marathon to beat me by 25 seconds. If I had slowed for that beer stop, I would have lost a minute and fallen 5 places in the brewrunner rankings. At the table that night I was outwardly all "Congratulations, good job" and positive attitude and all, but inside I was secretly jumping for joy at this small victory.

I decided to get the cheesy video of my finish (I'm the one with the light colored cap). The quality after conversion into youtube sucks compared to the original download. I could have sworn I was running faster than that into the finish chute.



This was my
- 8th marathon
- 7th marathon only on roads
- 6th marathon completely in a city: Austin & NYC (yeah its lame, but I needed a filler)
- 5th consecutive Austin marathon
- 4th marathon under 5 hours
- 3rd Austin marathon run with a different sponsor (Motorola, Freescale, AT&T)
- 2nd road marathon in a row to run 9 miles with the 4:30 group and get dropped
- 1st marathon under in 4:37