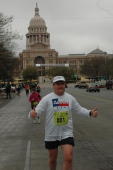 I got to the marathon start area by 5:45 to beat the traffic. I had no line, but traffic was soon backed up so far they had to delay the race 30 minutes. The startline was where I work, so I could step into the office to drop off clothes. People gathered in the cafeteria to keep warm. The temp was 28F at the start and climed to 33F by the finish. At the start when the runners took off a deer got trapped between the buildings and the stream of runners, so it had to run through a pack of runners to escape. Only one person got slightly bruised, and he managed to finish. Due to the traffic problems, people were delayed so far some were still starting 45 minutes after the official start according to a friend that works at the company that does the chip times.

There were a few icy spots in the first few miles, but by mile 3 I was pretty warmed up. I had a custom shirt made up with some funny sayings on the back. That was a conversation starter throughout the race that helped pass the time. In the first half of the run I kept below 10:00 minutes a mile before I took my first walk break after the 1/2 marathon point. Around mile 18 A co-worker was there with his kid who was a little excited watching all the runners. They supprised me again at mile 19 and 20. By 20 I was slowing down and the 4:30 pace group passed me. Our first names were printed on the race number, so everyone was yelling "go John!" At first it was motivating, but towards the end it started to get a little annoying looking up to see if it was someone I knew, who might be a little offended if I did not acknowlege them(its happened before). As we ran around the state capitol, a runner was having a difficult time taking a self photo, so I stopped and offered to take his picture.

Most of the race the wind was at our backs, but around mile 23 we had to turn into the wind for the final out-and-back loop before the finish. By this point I was considerably slower than before but still managed to keep going. In the last mile I ran into someone from my training group, and so we motivated each other to speed up until the end. Two others from the group sprinted past in the last mile, but did not see me. I finished with a chip time of 4:38.

At the finish they had warm chili and my coach from a marathon program a few years ago was there and offered me a shot of Tequila. Nothing warms you up like a hot bowl of chili and a shot of tequila and I have never had a shot that tasted so good. I know now what I am putting in my drop bag next time.

Then I went over to the tent for the training group I ran with this year where they had a keg so we had a few beers while waiting for everyone to finish up. Overall, there was pretty good spectator support the whole way. I did not run into too many from my training group during the run, but a lot of them finished within + or - 10 minutes of me so we were not that far apart.