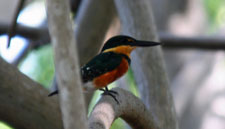 During my Nicaragua trip, I visited the coastal Isla Juan Venado Nature Reserve as a day trip from Leon for wildlife viewing. With my guide through Nicaragua, it was a 45 minute local bus ride from Leon to the town of Las Penitas on the coast.

On there shore, there were several small motor boats for fishing. We met up with a local boat guide for the park which was pre-arranged through a costal hotel, and then headed for the park.


Las Penintas, Nicaragua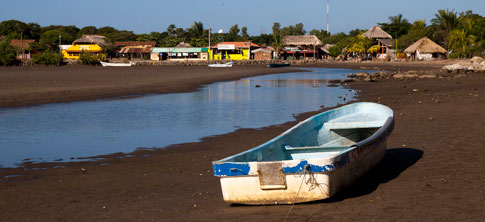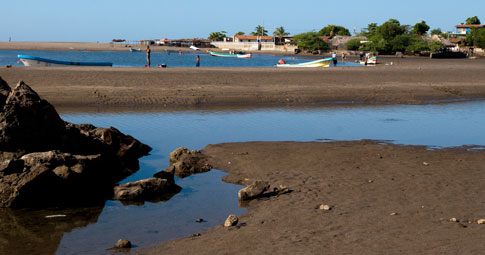 The park consists of a 22km long barrier island which provides a sheltered habitat for birds and other wildlife. We motored into a channel between the island and the mainland. The vegetation on either side of the channel consisted of mangrove trees. Within the roots of the mangroves were found many birds (which tended to fly away as we approached), crabs climbing up the trees from the water, alligators , and other things.
Locals used boats to harvest firewood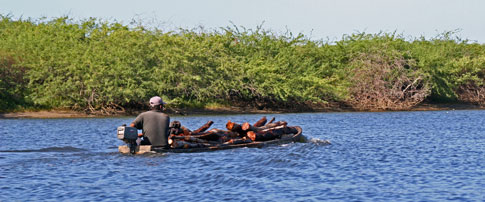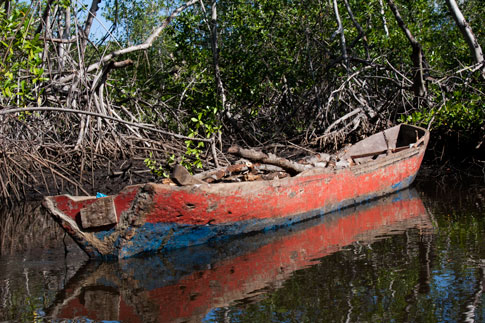 Our boat guide explained a lot of what we saw in Spanish, and my other Nicaragua guide translated. He was able to spot and find things which were so well camouflaged or otherwise very well hidden. I regret that after two years I don't remember the names of many of the birds.
A termite nest with a small bird living underneath: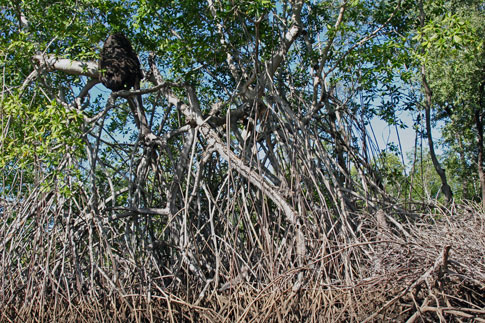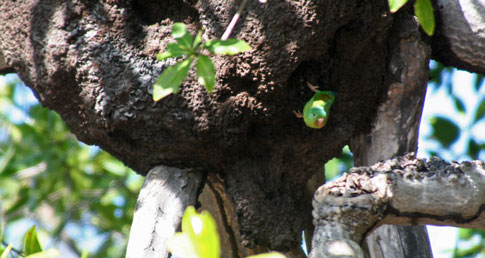 Bird's nest: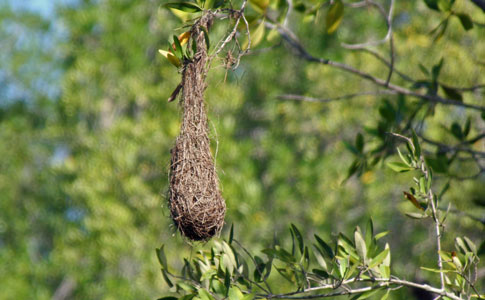 Crab climbing a tree:



Alligator hidden within the mangrove: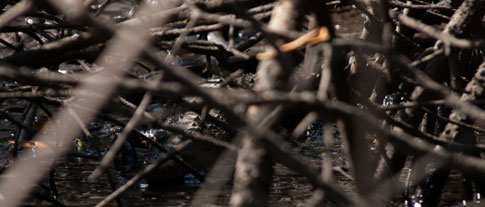 The photography from a rocking boat in low light with a zoom lens was a challenge. I had to use manual focus since auto-focus often focused on the wrong tree branch or root. Also, for mechanical difficulties I had to use my older backup camera so the quality was a little less than ideal. However I got a few shots that were salvageable.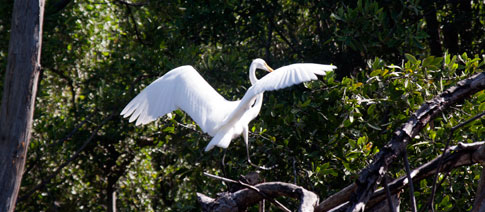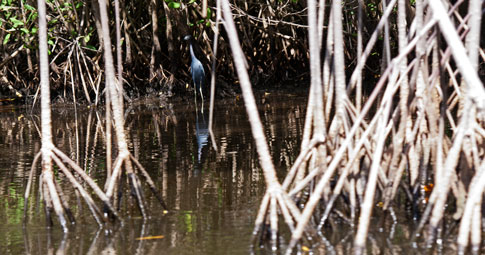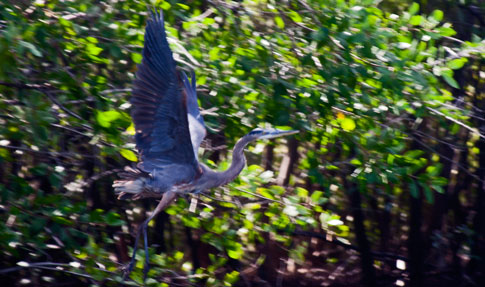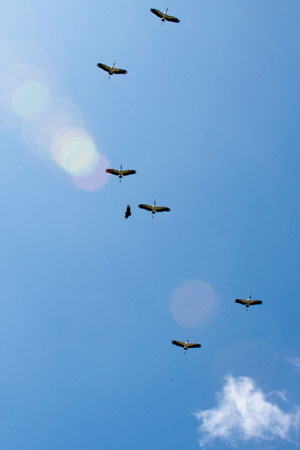 At one point along the route, we got out of the boat and walked across the narrow island to spend a few minutes on the beach. Our boat guide impressed us with his skill for finding crabs buried under the sand. He would dig down into the sand, dig out a crab, and then we would watch it scurry across the beach into the water.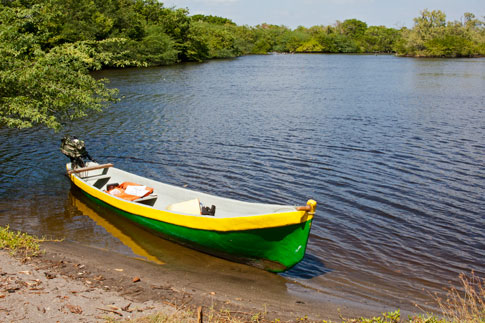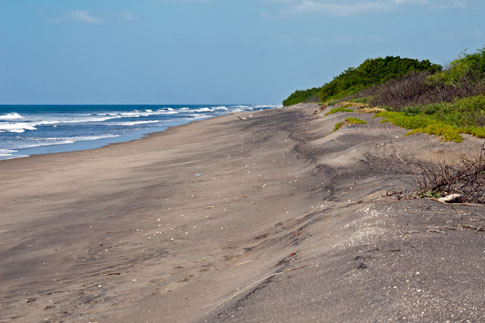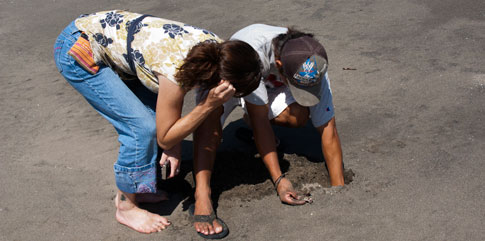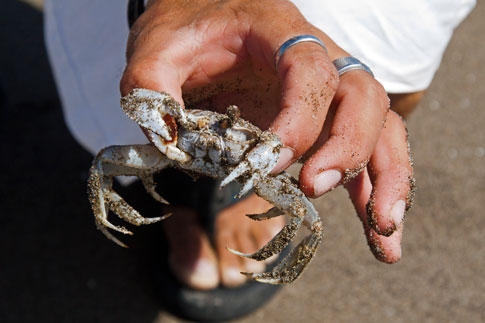 The most common bird seen was the white egret, of which I got a few too many pictures: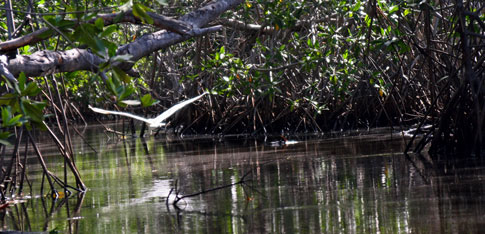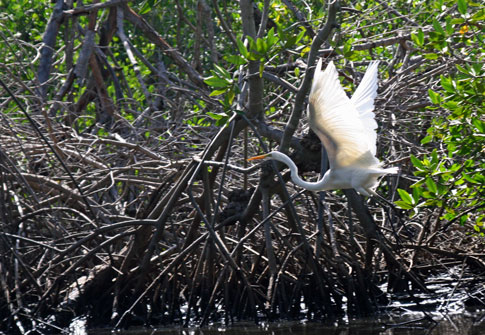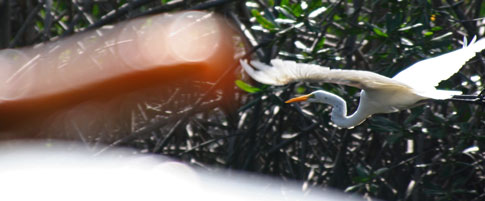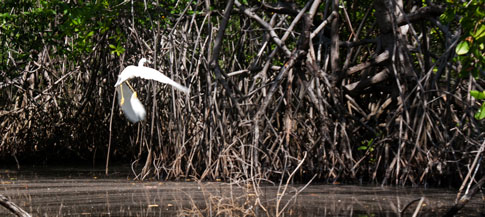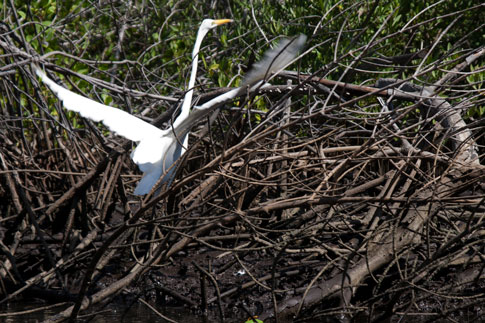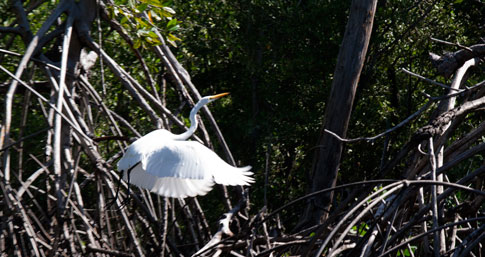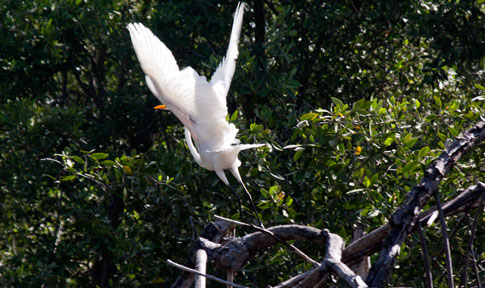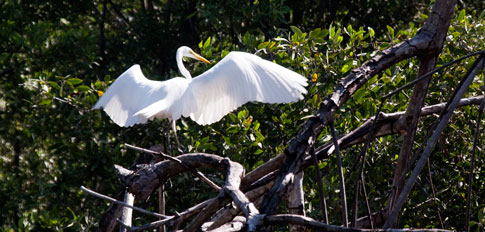 After a half-day boating up and down the channel, we returned to Las Penitas, had lunch at the hotel on the coast, and then went to catch the bus back to Leon.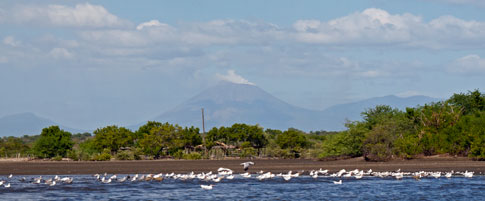 Related Links:
Maps of the sites I visited in Nicaragua: on
Google Maps
or
Google Earth
My travels in Nicaragua were arranged by
¡Un Buen Viaje!
.
More
Blog Posts
or
Photo Albums
from this Nicaragua Trip.
-
Managua and Coyotepe
-
Granada at Christmas time
-
La Granadilla
-
Mombacho Volcano
-
Empowerment International
-
Masaya: the City and the Volcano
-
Ultramaraton Fuego y Agua
-
Calzado de Ometepe Kids 5k
-
Leon
-
Cerro Negro Volcano