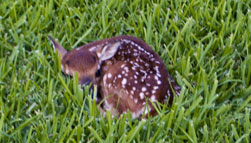 It's that time of year again, when the overpopulated deer in the area begin dropping their young in neighborhood yards. The other day I got home in the afternoon, I saw this little guy laying still in my front yard, less than 10 feet from the driveway.

A year ago this activity created a flurry of traffic on the neighborhood email list, and I came home from the hospital to find a fawn in my back yard. I wrote about that encounter and why deer do this in a previous post.

This time, the fawn did not move when I drove in and opened the garage door. After last year's fawn encounter, I expected the fawn would lie still and pretend to be invisible while its mother was probably somewhere nearby foraging for food. I went inside to grab my camera with the zoom lens and came out to get a quick picture as I went to the street curb to get the mail.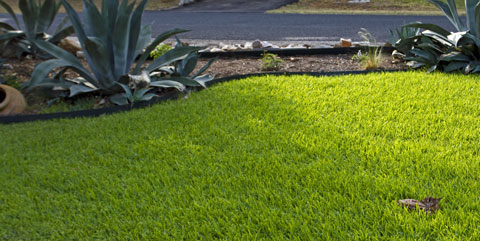 I intended to keep distance so as not to disturb the animal, since I knew the mother would be nearby. The last time this happened the fawn did not move, since its only defense I figured was to play dead. And so I was a little unprepared when it jumped up to run away. Pictures are a little blurry. I guess I came to close. Hope that did not cause a problem for the deer.
For a moment I thought it was going to run into my open garage, but at the last moment it turned away and went across the street into a neighbor's yard.