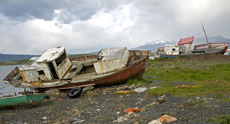 I'll show here some pictures from several towns which I visited awhile ago in southern Patagonia in between stops at some other amazing places which will deserve their own future posts.



Punta Arenas, Chile
This is the southernmost sizable city in Chile. The stop here was just a transit point on the way to Torres del Paine. We flew to the city in the morning from Puerto Varas. On the way to the hotel, my tour mates who were originally scheduled for an Antarctic cruise that was canceled saw their disabled cruise ship in drydock getting repairs. The economic slow-down had left enough vacant hotel rooms that my tour operator was able to get a good enough deal to bump us up to 4-star accommodations. As I hung out in the hotel lobby, I overheard curious conversations of other guests, including a couple of pilots in NASA uniforms debating the details and weather risks of whatever research mission they were getting ready to fly over Antarctica.
Plaza Muñoz Gamero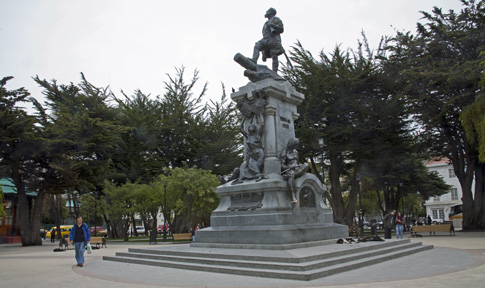 Street scene in Punta Arenas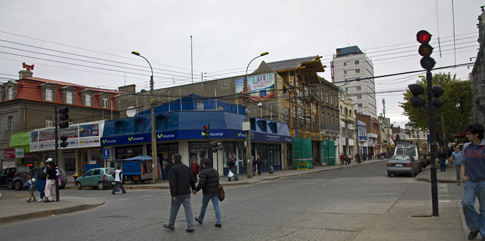 I had a few free hours to explore the city on foot on my own. There was a central square, Plaza Muñoz Gamero, with a monument to commemorate the 400th anniversary of Magellan's voyage. Apparently the local superstition is to rub the feet of one of the statues for good luck, and many people were stopping by to do that so I had to wait awhile to get a relatively people-free picture of the statue. I walked through some of the neighborhoods by myself and stopped at a street vendor for some fresh cooked empanadas. Getting a couple of blocks from the main streets, the city started to feel cold, empty, and desolate.
HMS Beagle Reconstruction docked in Punta Arenas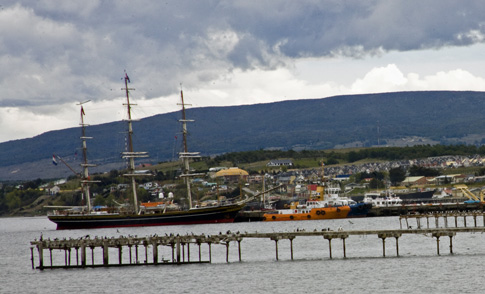 Ships sail in the Straits of Magellan


I went back to the hotel, which was on the edge of the Straits of Magellan. There was a fancy historic-looking boat docked down the coast. I took a picture from afar not knowing what it was. A couple of hours later, my tour mates explained to me it was a ship which was a reconstruction of the
HMS Beagle
, which was retracing Darwin's historic voyages. By then the ship had already left port so I missed the opportunity for a closer look. In the afternoon I visited a nearby Penguin Colony. Dinner was at a great restaurant with good atmosphere called
La Luna
.
Pureto Natales, Chile
A half-day bus ride north from Punta Arenas brought me to Puerto Natales. I walked around to the edge of the water. There were lots of beached fishing vessels. Even though it was summer, we were far enough south that wind was cold and chilling. It was daylight until 10pm or 11pm, and the sun rose before 5am.

Puerto Natales Waterfront


Monument in the main square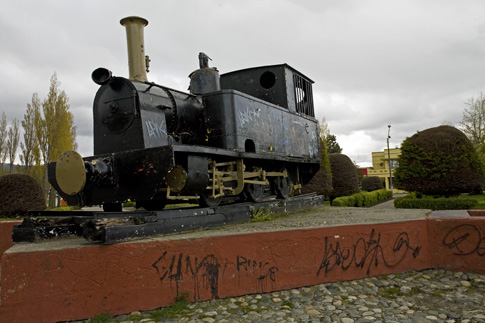 Typical Street Scene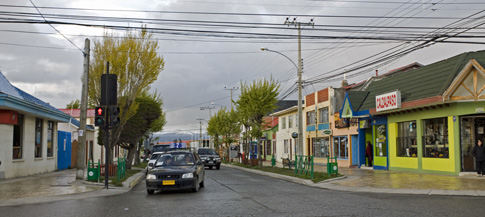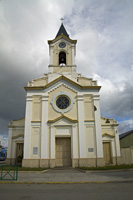 In this town, I rented sleeping bag, and stocked up on some grocery supplies before leaving the town for a 4 day trek through the Torres del Paine park, which is one of the most beautiful places I have ever visited. I will post pictures from that location later. Unfortunately, I had several camera memory cards fail, so I have not been able to access most of my pictures from the park. I still have those cards, but have not yet investigated if I can retrieve any of the data. After the trek, we returned to this town for one night before taking the bus to El Calafate, Argentina.

After dinner Foosball Game


Beached fishing vessels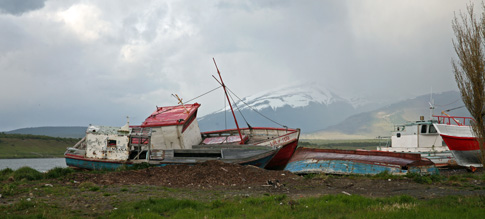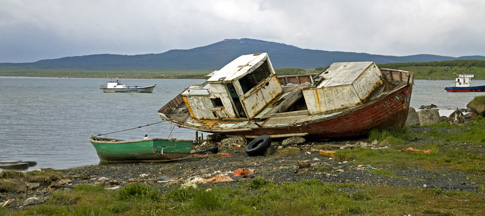 El Calafate, Argentina
El Calafate is a city less than 80 years old, and serves now as a tourism hub for visits to the nearby parks. After dropping off laundry at a local lavanderia, we had the rest of the afternoon to explore the gift shops selling tourist junk. Not so much to see here, but the Calafate ice cream was good. Calafate is a local berry. This town was another transit point in between more interesting destinations.
In the evening, I went with several of my tour group to a steak house. In one corner of the restaurant, behind a display glass for everyone to see, were the racks of lambs cooking over the fire pit. It was similar to this picture take below in Buenos Aires. The cooks would step into this room and cut off pieces of cooked meat as orders were placed. Gradually, over the course of the night, the cooked animals disappeared piece by piece.
Example Barbeque (from Buenos Aires, similar to the one in El Calafate)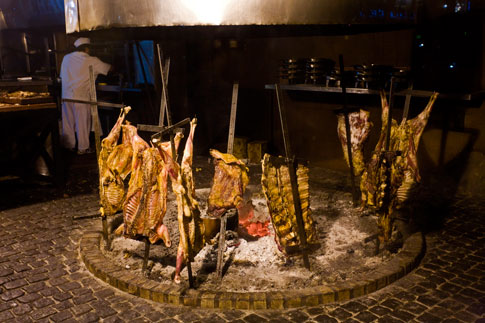 The tour left El Calafate the next day to visit the glaciers at the Perito Moreno National Park, and then moved on to El Chatalen and the Fitz Roy Mountains for several days before returning to El Calafate for one more night.
As I explained in a previous post, the tour company, GAP Adventures, had added a second tour on these dates at the last minute to accommodate other travelers who were originally booked on an Antarctic tour that was canceled. There was another tour group following the same itinerary who we saw regularly, although they often traveled on separate buses or stayed in different hotels. The other group flew to the next stop in the morning. The last minute booking meant our group couldn't get travel reservations until the afternoon. That gave me an extra day to explore this town, although I would rather have had that day at the next stop. Such is the cost of signing up for the tour at the last minute.
Flamingos in El Calafate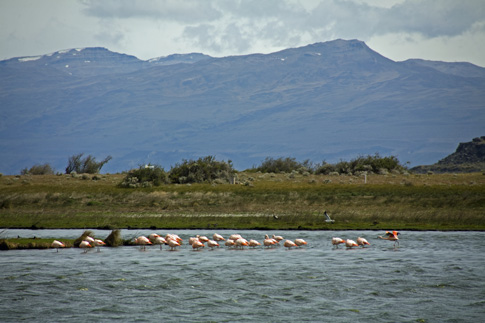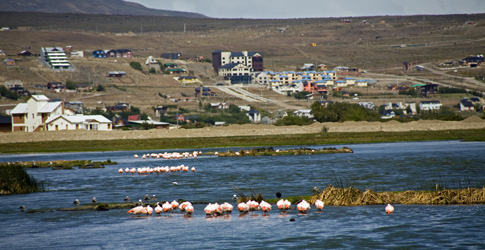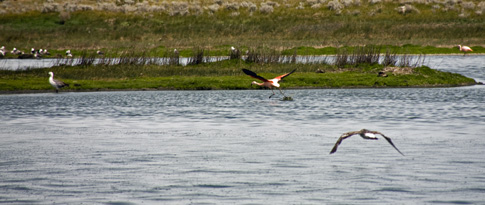 I took my camera down to a park on the edge of Lago Argentino, where there were a lot of flamingos and other birds. Then I went through a couple of small museums. One had some dinosaur skeletons from the area. The museum also had an exhibit on the indigenous people of the area, which had been noticeably absent from the travels so far. Photographers had documented their existence in the early part of the last century, but the tribes had either died out or been assimilated into the invading European immigrant cultures.
Natural History Museum in El Calafate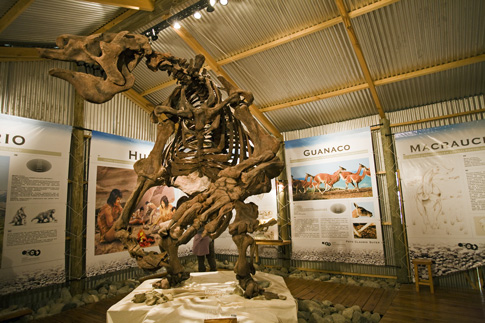 Map: View in
Google Maps
or
Google Earth
.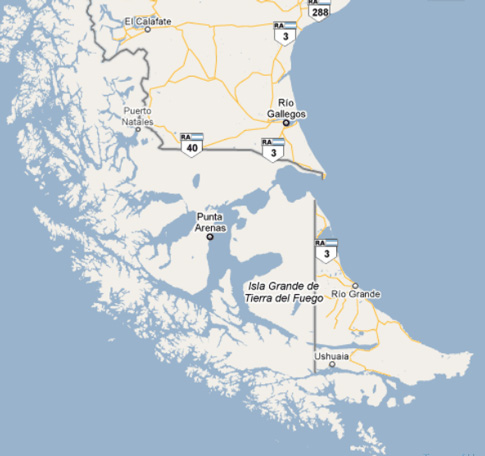 Photo slideshow is embedded below. Alternatively, for larger view see the
full screen slideshow
, or see the pictures on my
SmugMug album
.
Related Links:
- Maps showing locations of stops on this tour:
Google Maps
, or
Google Earth
.
- Index to
More Pictures and posts from stops on this tour
.
-
More pictures from this stop on the tour
.