A few posts ago I described some of my medical drama from this summer. I was touched and am thankful for all those who offered support or words of encouragement through various means after reading that. So perhaps it is time for a quick update for anyone who might still be reading.

I have been back at work for a month and a half after several months medical leave of absence. I visit my doctors frequently who run tests to check that the condition is not coming back, and to watch for bad side effects of some of the medications I take daily. It's about 8 or 10 pills -- some of them twice a day.

I have been trying to get out and do some exercise – which consists of gymwork, treadmill, or long walks. I have been up to 5 miles walking distance. Last month, I went out for my first 5K event since I started recovery. It was the Get Your Rear In Gear 5k. It was a small race west of Austin, but had lots of swag. Tasty Bites was a sponsor, and I came away with enough of their product that they were handing out for a couple of meals and a couple of old tech t-shirts. I guess this milestone event gives me the right to display this badge of honor on my car.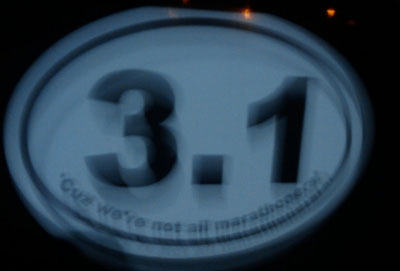 Image stolen from JT's Blog
My lungs cannot keep up yet if I try to run, so I am going for time on my feet walking. Taking the time to do this exercise gets more challenging now that it gets darker earlier. And with medications that increase my susceptibility to getting sick, I am not so eager to get outside for a few hours walking when it is really cold. I try to compensate for the inability to run by increasing the incline on the treadmill until I can find the balance between a pace I can sustain that feels like I am pushing myself and not over exerting and getting out of breath too quickly.
Thanks to
Run DMZ
for the
shout-out
and kind words. And also, thanks to Donald at
Running and Rambling
for hosting a contest where I won a case of CLIF Protein Bar products. And of course thanks to CLIF for sending the products.