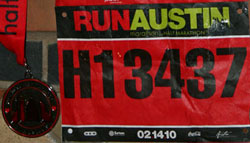 I ran the Austin Half Marathon last weekend. I am just getting back into training since break since following my last ultra run a couple of months ago. But this marathon/half-marathon event is the focus of so much the Austin running community, and I have participated in one of the weekend's races so many times (12 out of the last 14 annual events) it did not see right to skip it. I figured I could do the half like a long training run so I signed up. After running several 26+ mile races last year, I figured 13 miles would be no problem, since that was like an average training run distance. There was not that much to report from the race itself. But there was a moment at the end of the race that made me think.

Since I had only run a little over the last few weeks, I didn't perform particularly fast, but it was not particularly difficult either. I ran into a few people I hadn't seen in a while. I had been running this as just another run. I hadn't trained for any goal in this race, so I didn't have any emotional investment in its outcome. I really wasn't thinking much as I passed through yet another finish line and waited in line to get my finishers items and a bagel.

While I was stuck in the line, before I even got to the point where they were handing out finisher's medals, the 20-something woman next to me pulled out her cell phone and made a call. She was in tears of joy and was excitedly telling someone how she couldn't believe she had done. And that is where the realization hit, this distance was still a big deal to a bunch of people. I had forgotten that.

Once upon a time such a distance was a big deal for me as well. This Austin Marathon event was formerly known as the "Motorola Marathon." When I first worked at Motorola, right after I moved to Austin, co-workers often got teams together to run the 5-person relay. This consisted of 4 5-mile legs and one longer 6.2 mile leg at the finish. Usually no-one wanted to do the longer leg because that seemed like an impossibly long distance. While today that distance would be a normal daily training run, back then it was a big F---ing deal to run 5 miles.

My memories from those first races are vague on details. To prepare for the first 5 mile relay leg, I had started running for 20 or 30 minutes every few days with some co-workers in Oak Hill and thought that was a tough workout. Then I did a couple of 5k races where I think I probably walked half of those. That first relay race morning I somehow managed to get to my relay exchange point, which was near Austin High School. I was running the leg that went through downtown into somewhere in east Austin. A lot of relay runners were waiting, and a volunteer was yelling out on a bull horn incoming relay race numbers so the next person could get ready for the transition. Finally it was my turn for an exchange and I took off. I made it barely a mile before I ran out of steam and started to walk. I hadn't taken two walking steps before a woman around my age running the marathon turned to me as she passed and said "run with me for awhile". So I started running again. I could only keep up with her for a couple of minutes before she pulled away. But it is the one memory that stands out from that first race that a complete stranger tried to offer some motivation for me to keep running.

A few years later I got stuck with the longer leg at the finish. I had never run 6 miles before that time. I remember feeling amazed that I could complete 6 miles and it did not feel that much harder than 5 miles. Some of us decorated our cubes with the bibs to show off the accomplishment.

When I got home after this year's race, I started to throw the race bib and medal in the box where I store such mementos. Items go into this box usually never to be seen again. But this time I decided to take a self indulgent stroll down memory lane and pull out some of the old bibs and medals and try to figure out how many of the 5 person relays I had been in. I couldn't remember if I had done 3 or 4 of those relays since that was before I started keeping track. But I had 4 bibs from the old Marathon relays.

There have been 14 Austin Marathon events since I moved to Austin. I have somehow participated in one of the races associated with the event during 12 of those years. That includes 6 marathon completions, 2 half-marathons, and 4 times running a leg in the 5-person relay. Next year is the 20th anniversary of the race. Maybe that milestone race will be the one that brings me back to the road race, setting a goal, and really training for it. To really run it and not just participate.

It is curious to see the change in the bib style over the years. I haven't created a shrine in my house to show off these things, so I will show the off on this blog.