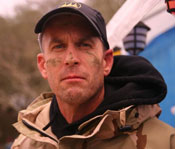 I would encourage everyone to come run the Hokahey 5k on November 14. This fundraiser is a benefit for my good friend Dan "Dano" Keitz, with whom I have been on several trail running expeditions over the last few years. Dano has been sidelined after he was diagnosed with CIDP and ALS. I know some of my friends who read this blog have also run with Dano, but may not know of this event.

Read more about Dano on this website.

It has not been uncommon to find Dano wearing some funky bandanna, sombrero, or hat with Micky Mouse ears during a race. In honor of Dan, some people may plan to wear similar items during this race.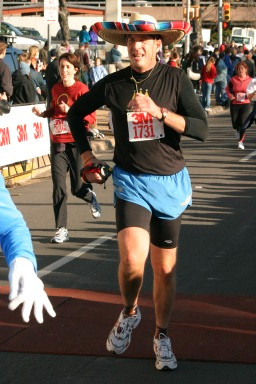 Photo by race photographer
Event Details:
What:
Hokahey 5k
When:
Saturday, November 14, 2009.
Where:
Course Map
,
Google Map
Links:
-
Race Website - http://hokahey5k.com
-
Registration Direct link
-
Facebook Event Page
There is an option on the registration page to donate for anyone wishing to contribute who cannot attend.
I was visiting with Dano the other day and had the opportunity to see the race poster up close. Dano has created the graphics himself and has placed his usual level of symbolic detail in each element. For example, I had not noticed until he pointed it out that the tassels hanging from the dream catcher were in fact trail shoes hanging from bandannas. Another detail is the graphic includes 5 eagles, one for each of his children.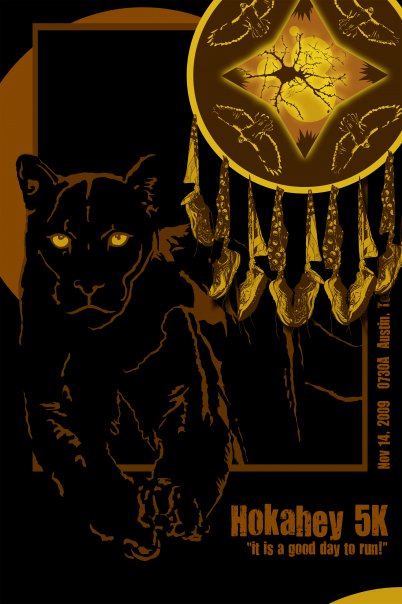 EDIT: I have received questions about the pictures here. So here is an explanation. The first profile shot is from the
Bandera trail race
in 2007 when Dan ran the Crossroads aid station. Next one is from a 3M Half-Marathon, most likely from a race photographer. The poster and graphic below are original images produced by Dan Keitz for the race. The picture below I took as Dan approached the finish of the 2006 Pikes Peak Marathon where many of the Austin group stepped out to cheer Dan into the finish.