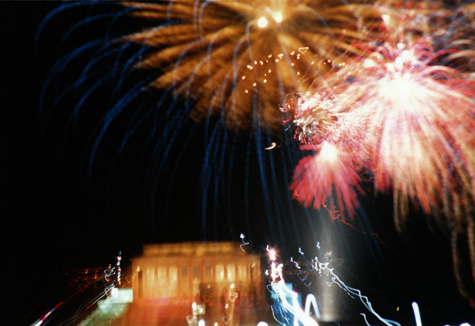 This picture is from the celebration in D.C. around President Clinton's inauguration in 1993.
I was reminded of this event when I visited the Obama Store in Austin last weekend, and then I ran across this picture while packing up and preparing for the upcoming move.
I was in college at Virginia Tech at the time, but that semester I was doing an co-op rotation at an engineering company in Manassas, Virginia, outside of Washington D.C. I was sharing a house with 6 other co-ops, but I was unable to steer the herd mentality to convince anyone to come to the Inauguration party at the mall in D.C. So, I went on my own and I took my tri-pod for pictures.
The actual inauguration happened separate from the concert. I don't remember of it was the same day or earlier/later in the week. The concert was on the steps of the Lincoln Memorial. Paying/political supporters got tickets into the stands and up-close areas, but the stretch of land around the reflecting pool was free and open to the public. I think the concert was produced by Quincy Jones and had a bunch of well-known performers come up for a song or two each. The new President and Vice President got up for a quick speech each. There were military aircraft flyovers including a low pass by some Apache helicopters.
After the music was done, most people began to clear out. I took a position at the far end of the reflecting pool, and hardly anyone hanging around at that end of the pool as many people were heading towards the subway entrance. I set up my tripod and snapped off a couple of exposures on 35mm film before the fireworks were done. The picture above was result of adjusting the zoom in the middle of the exposure.