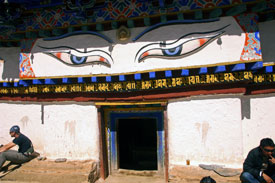 Well, it's been awhile since I started writing about last year's trip to Tibet with GAP Adventures
. As I approach the 1-year anniversary of this trip, it seemed time to come back to finish the report for the second week before the details slip from my mind. This post covers travels through the rural towns of Tibet.

Earlier this year, after political unrest in Tibet, China has closed this region to foreign tourists. Makes me glad I got to travel there while I could, though I am concerned of the impact of these events on the people there.

Links
- Tibet trip report, part 1 – Beijing to Lhasa
- Tibet trip report, part 3 – Everest and Nepal
- Photo Highlights


DAY 9 – Lhasa (3658M / 12,000ft) to Gyantze (4040 M / 13,250ft)

Leave Lhasa and drive in Range Rovers to Gyantze. Drive includes a side trip to Kamba La pass (4794M / 15,700ft) with Views of Lake Yamdrok.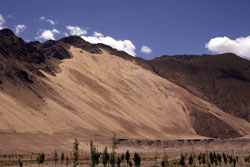 After 4 days in Lhasa, Tibet's capitol, it was time to move on. Our group split into 4 Land Rovers, and we left the hotel for the scenic drive to Gyantze. Our group consisted of 12 tourists, our Belgian guide, our Tibetan guide, and 4 divers. The mountains rose up on the other side of the river that paralleled the highway. I have never paid much attention to the angle of rock layers that form mountain peaks, but here such angles were very much profoundly vertical. In many places, the sand had been blown up out of the valley floor and formed sand dunes upon the mountains. It was a unique sight to see.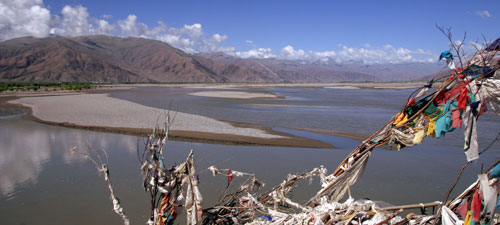 After a bit, we had a photo stop (smoke break for the drivers) along the river. Our guide pointed to a development up on a mountain pass off in the distance and explained we were driving to that mountain pass next. We could see where the highway was cut into the side of the mountain, and it also appeared surprisingly steep. The drive up the mountain was impressive. The road that looked to go straight up from a distance was actually a very winding road that went up several thousand meters in elevation. At several points we could look down into the valley below and see crumbling ruins of old dwellings. Along the road up in the mountains there were herds of Yak and sheep.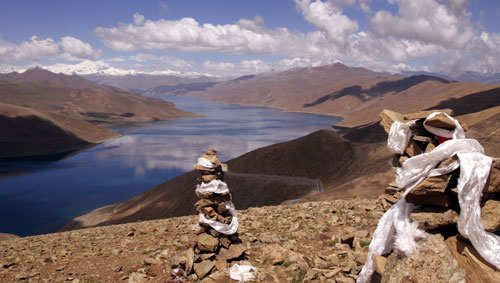 We arrived at the top of what I think was Kamba La pass (4794M / 15,700ft) and were treated to a beautiful view of Lake Yamdrok. There was a short hike further up the hill to get away from the tourist crowd. There were a few rock pile mounds Tibetans had left from earlier pilgrimage.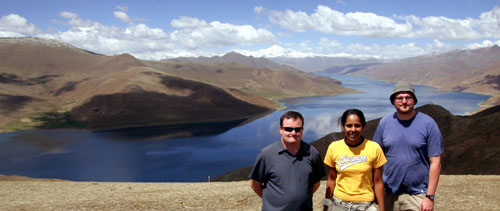 Then we continued on back down the mountain the way we had come and then stopped at a rural restaurant along the highway. Our guide explained that often in these small family the kitchens could get overwhelmed a bit if everyone ordered the same things and take forever to cook each dish separately. If people coordinated and multiple people ordered the same dish, things would be cooked up to together and it would go faster. The typical dishes we would find at such restaurants would be a choice of rice or vermicelli (chow mein) dishes. Then there would be variations such as egg-fried rice, veg-fried rice, chicken fried rice, or yak fried rice and similar choices for the chow mien. There was a regional specialty called "Momo" which were dumplings with various fillings such as vegetables, apples, yak meat. Sometimes the restaurants would add create a western dish such as pizza or veggi burgers, and sometimes these were some interesting local interpretations. At one restaurant the hamburger was a patty of crushed vegetables (standard veggi-burger patty for this area) with a slice of ham on top.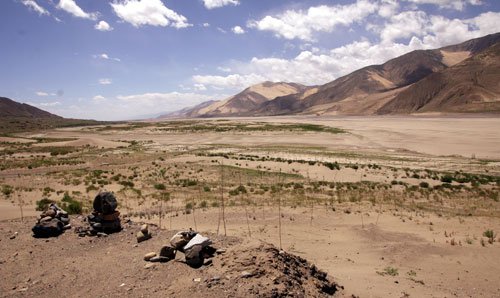 After lunch the drive followed a dry river valley. The area was very much a desert. After a little while we stopped for a photo shoot / smoke break excuse at a place with good overlook of the dry river bed and desert that had taken the place of the river bed. Then we left the highway and got onto some dirt roads that took us to a stop with sand dunes, where everyone got out and went climbing to the top. The dirt road then took us into the hills, past a few small farming/ranching villages. There were a few low water crossings. I was in the lead car, and we had no problems. But some of those behind nearly got stuck in the water. Then we returned to the highway (or maybe it was a different road, I'm not sure), and followed it to Gyantze.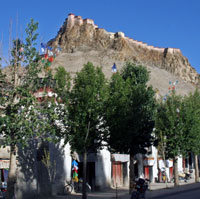 Gyantze is supposed to be one of the most purely Tibetan of the sizable cities in Tibet. By that I mean with some of the least Chinese and other foreign influence. Our tour group took a walk around the town past the Gyantze Dong fort to the gates of Pelkhor Chong temple and back to the hotel for dinner. Someone brought up the fort was the site of a battle with invading British army. It had not occurred to me that any western armies had at one time penetrated this far from India.
Day 10, Gyantze (4040 M /13,250ft) to Shigatse (3836M / 12,500ft)

Morning walk up to the Gyantze Dong fort (unguided), and tour of Pelkhor Chong temple and Gyantze Kumbum. Afterwards drive from Gyantze to the town of Shigatse, and tour of the Tashilhumpo monastery.
In the morning before breakfast, several of us went to the fort, unguided. It was a good climb up to the top, but we were rewarded with excellent views of the surrounding area.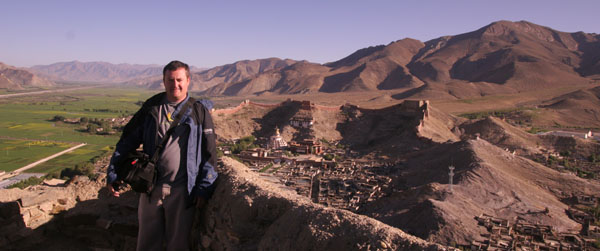 After breakfast, we went to the Pelkhor Chong temple. Next to the temple was the Gyantze Kumbum, which was a multi-story building. There were 108 chapels on four floors, each filled with statues and had walls covered with mural paintings. At the top it gave some good view of the city and courtyard below, were we could see some of the locals go about their daily business, including washing and gathering water from community pump. Some of our tour group were playing with the little kids in the square while they waited for those of us who liked to linger and take pictures to finish.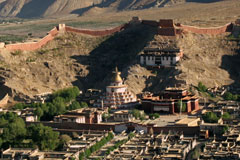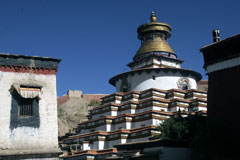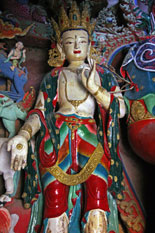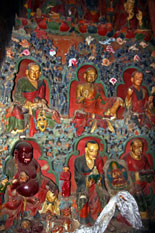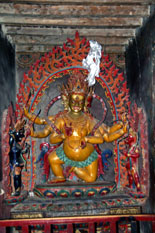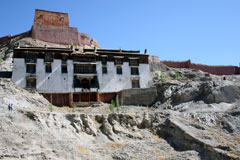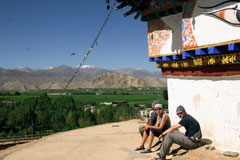 Then we left Gyantze for the drive to Shigatse. On the way, our smoke break excuse was a stop at a local flour mill. This was a true low-tech mill. A donkey cart was parked out front to deliver the barley that would be milled. Then we were off to Shigatse. We reached the nice hotel with plenty of time for lunch.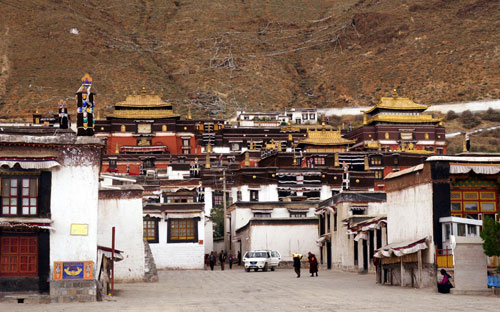 Then we went on a tour of the Tashilhunpo monastery. Our GAP guide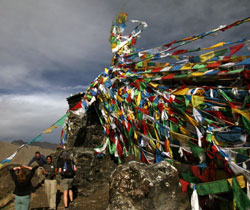 negotiated with a local man hanging around the entrance to be our tour guide through the monastery. The tour guide did a better job of explanation than our first guide in Lhasa. Regrettably, by now all the monasteries were starting to look the same. Afterwords, we took a walk along the pilgrimage path around the monastery, which was again lined with prayer wheels. Some of us climbed the steep hill behind the monastery to the top where there was a great view of the town, a ton of prayer flags and a prayer site. Unfortunately, I had left my camera on a setting for the low-light indoors, and my pictures from the hilltop did not come out well. Eagles were soaring around this peak.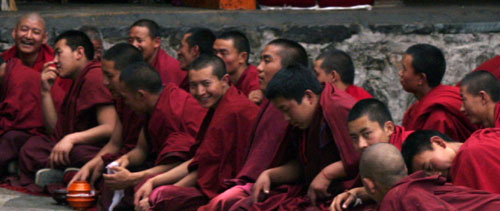 Day 11- Shigatse (4040 M / 12,500ft) to Sakya (4900M / 16,000ft)
The next morning we drove toward Sakya. The first smoke break excuse was a stop at one of the high mountain passes. Each such pass, as well as any bridge and mountain top was covered with prayer flags. There was a short climb up to the top of a hill for a better view. At the top, there was a large number of rock cairns that previous visitors had left.
Sakya is a small town, but it had a big tourist hotel. We had lunch in the hotel which had a typical menu that we had become used to in Tibet. There were a couple of local kids playing in the dining area. In China, instead of diapers the little kid wore pants with a an open slit in the bottom. In front of us, one kid left a big puddle on the floor, giggled, and went back to his play. Some in our tour group thought it amusing that no-one bothered to clean it up until after we left.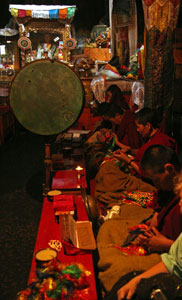 The main monastery on our itinerary was closed for renovations, so instead we walked over to a local nunnery. The nuns do not seem to get too many visitors, and seemed very happy to visit. They were particularly interested in seeing the pictures on people's digital cameras of the other monasteries we saw in Tibet, which they don't get the opportunity to travel to visit.
In the evening I walked around a bit on my own. Kids were all around playing having just gotten out of school. One really young school kid had a small bag of potatoes chips he just purchased at the store. When he saw me turned the corner he came running out of the store to me and offered to share his chips. I wished I had some little trinket to offer in return, but I did not even have even a pen or souvenir U.S. coin on me to offer. In other countries I have visited recently, I had become so used to touts and little kids trained to act cute and then solicit handouts that it was nice not to be constantly harassed as in the other places I visited. Maybe this kid was hoping for a gift, but I felt more like he was just trying to be friendly, welcome the stranger, or maybe just play. A lot of places we went there were kids eager to just play with any tourist who was willing. Once in Gyantse we were solicited for pens, and someone from our group was able to produce a couple of disposables. I wonder how long it would before this relative innocence is lost, and weather someday these tourist stops would develop into something more trashy, more commercial, with more touts. Hopefully the Tibetan culture would limit that, but change will be inevitable. Technologies and new communication links will expose Tibetans more and more to outside influences, as evidenced by all the monks walking around with cell phones. The new rail link between Lhasa and China will encourage Han Chinese to immigrate to Tibet which could eventually led to Tibetan culture pushed aside, much like Caucasian Americans replaced the Native American culture during our migration west. Even if Tibetan culture survives such migration, Modernization will change things as Tibet is pulled from the nineteenth century into the present.
Next post on this subject will cover the rest of the trip to Everest base camp and Nepal.
Photos from the places visited in this post:
- Album #3 –
Gyantse
- Album #4 –
Shigatse and Sakya
-
Trip Highlights Album
Related Posts
-
Part 1 – Beijing to Lhasa
-
Tibet trip report, part 3 – Everest and Nepal