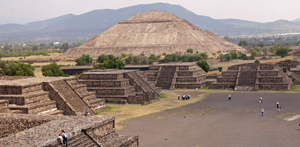 I stopped off in Mexico City over Memorial Day weekend on the way back from spending 2 weeks in Peru. The Peru trip was excellent, but it deserves a few posts of its own when I catch up with this blog. If I had come straight home from Peru, it would have put me in Austin on the Friday before Memorial Day. Since it was a long holiday weekend, I started looking for someplace in South America to add on a side trip while I was in the region. But it was so much more expensive to tack on a side trip in Central America or elsewhere in South America (well, there were a few cheap flights to Central America that required overnight layover in Bogota or Medellin, Colombia I opted out of) and it was only around $120 extra on the airfare to add a stopover in Mexico City so I went to Mexico city.

My flight from Peru left at midnight, and after a stopover in Houston I arrived in Mexico City around 11am. The customs agent complemented me on my weight loss since my passport photo was taken 3 years ago, which was weird since I have gained weight since then. Maybe he was trying to be nice. I took a taxi to the hotel which was 2 blocks from the Zocolo main square and then went to lunch at a nearby diner. The waitress was very accommodating with my inability to communicate except for very rudimentary Spanish. I thought I was ordering a $5 combo platter with tacos al pastur, soup and water (agua). But what I did not understand was that it was really flavored water and she went to some extra effort to come back with samples so I could choose the flavor.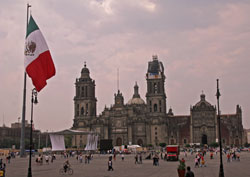 After that I walked around the Zocolo. The plaza was filled with Aztec dancers, some of whom were performing cleansing rituals on people. Next to the Zocolo I toured the Templo Mayor, which is the ruins of an Aztec pyramid demolished by the Spaniards in the 1500's and re-discovered in the last century and excavated beginning in 1978. Only the foundation remains, but it is easily seen several layers of construction as different generations built larger pyramids on top of the earlier ones. There is 5-ft channel carved straight through the site, where a water line was laid before it was realized the significance of the site that was cut through. There was also an well done museum attached to the site.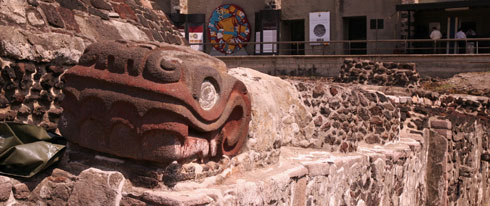 After walking around for a couple of hours, I went back to the hotel for a catnap before dinner, but I slept through the alarm and did not wake up until almost 11pm. By then many of the restaurants around the hotel were shut down. Within a few blocks, I found 3 7-11's, a couple of other convenience stores, and two McDonalds. So I picked the quarter pounder over the 7-11 hot dog. I had eaten much healthier than normal over the prior two weeks, so I did not feel too guilty. After quick dinner, I went back to catch up on sleep after the flight the previous night.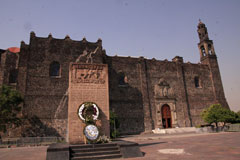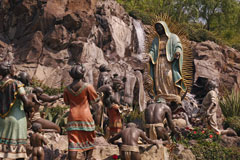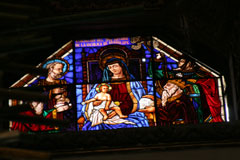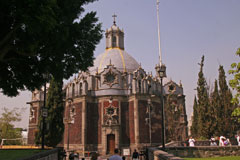 The next morning I signed up for a $30 day tour to the Pyramids at Teotihuacan which I had signed up through the hotel lobby. We had an excellent guide and a tourbus that fit 12. We first stopped at the Plaza de las Tres Culturas (Plaza of 3 Cultures) which symbolizes Mexico's unique heritage. This contained ruins of the Aztec city of Tlatelolco, Colonial Cathedral of Santiago, and the modern Foreign affairs building. It is the site of 3 terrible events: Last stand of the Aztecs,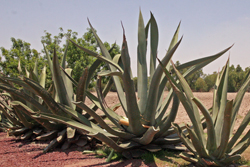 1968 massacre by army of student protesters, and a building collapse during the 1985 earthquake. Then we visited the Basilica de Guadelupe, the main Church of Mexico. Then we had the obligatory stop at tourist trap craft shop that made figure carvings of obsidian and tequila. All such tours stop at some sort of craft shop, where no doubt our guides gets a nice commission. Perhaps it helps keep the tour price down. At least we got an interesting demonstration how tequila is extracted from the agave plant. Never realized how big those plants were. Finally, we got to the ruins at Teotihuacan. These pyramids had been overgrown with vegetation, so the Spaniards would have thought they were hills and did not destroy then like so many other structures.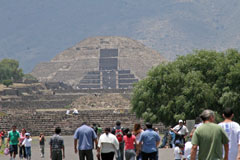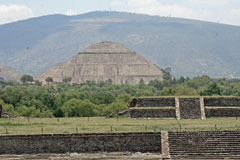 The next day, I started out with breakfast on the rooftop restaurant of the Hotel Majestic, overlooking the Zocolo. There was a running race finishing in the Zocolo. By the time, I am guessing it must have been a half-marathon or maybe 10K. One difference I noticed with the running culture in Austin was that everyone was wearing the event's tech t-shirt. The etiquette at least in Austin is never to wear the event shirt at the event, but only afterwards. At the time I was a little mad at myself for not looking ahead and getting in the race. It would have been a good excuse to go for a long run, but it was a good thing that I did not run since I am supposed to be recovering from a twisted ankle and needed to stay off the feet.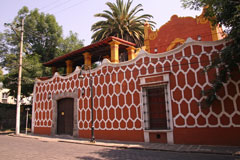 Next I took the subway to the Coycoacn neighborhood for a walking tour recommended by a friend and expained well in my guidebook,
Mexico City – An opinionated guide for the Curious Traveler
. I took the subway to get there. It was a very quiet, peaceful old neighborhood. Properties were surrounded with high walls which hid gardens from street view. A big change from the other parts of the city I had seen. After a little walk, I reached the main square was completely blocked off for construction. This made all the surrounding sidewalk café's a little too crowded. I headed north and visited the Firda Kahlo Museum with its bright blue distinctive walls.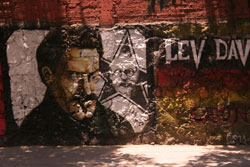 Walking through the neighborhood outside the museums I ran into a religious parade. I do not know what the celebration was for, but there was a marching band, fire crackers, and a religious icon that was carried for a few blocks until the parade came to an end. Then I walked over to the Leon Trotsky museum. It was a fortified house where Trotsky died when Russian agents assaulted the compound. Bullet holes were still in the walls.
I returned to the subway and went to the Museum of Anthropology. But the line was a few blocks long and I decided not to wait. It turns out that admission is free on Sunday, so everyone goes that day. I went back to the hotel, and spent the remainder of my last couple of hours of the last afternoon on vacation relaxing and reading on the roof top balcony. I went to the Café Tacuba for the final dinner of this trip. Very nice and large 100 year old dining hall. Then I went over to Plaza Garibaldi to hear some of the mariachis bands before turning in before my early flight home the next morning.
Mexico City Photo Album