I get a lot of questions how I generate the map images with overlay of routes I ran that were downloaded from my Garmin Forrunner 305 GPS device. I will explain how I do it here.

Example Map Route Image:
Mt Diablo 25K/50K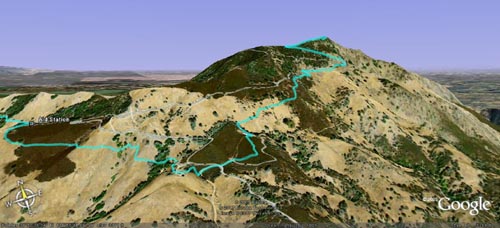 (Click the image for full sized map)
(EDIT: Since this post was first written, Garmin has introduced Garmin Connect which replaces Training Center. This online service allows you to directly download your route in either GPX or Google Earth KMZ format. If using this, then you can skip the get301tracks program and skip ahead to the section on mapping programs.)
The Garmin Training Center software that comes with the device does not have a good option to export the routes generated into common formats (such as GPX) which can be read by other mapping software.
I use a program called Get301tracks by Brad Culbertson to download the GPS route information to my PC in common GPX format. This works for both the Garmin Forerunner 301 and 305. This program downloads the GPS routes from the Garmin device and saves it in both GPX and CSV formats. This works well enough for me I have not been motivated to investigate other options. If anyone has found a better solution, share it in the comments section.
Install/Using gettracks:
Create a new folder to store GPS routes. Suggested Location: My Documents/GPS routes
Download this program into that folder, and unzip it: get301tracks
Plug your garmin in to the computer.
Run the get301tracks program you just downloaded.
A window will pop up, run the program and close automatically. When it is done, your GPS routes that have been recorded are stored as separate GPX files in that same folder where get301tracks. The filename will indicate the date of the run.
Now you can load the GPX file into most mapping software and plot the route you traveled over a map.
Mapping software I use includes:
Another program that might do something similar, and maybe more user friendly, is
GPS Babel
. I have not used it. The last time I looked into it two years ago it did not yet support the Garmin F305, but I think they have updated it since then.
Some tools that look interesting but I have not tried:
Course Creator: From the maker of get301Tracks is a program to create routes and pre-load them into the GPS device.
GPSBabel: Once you have the route in GPX format, this program can convert it to other formats. It might be able to download directly from the device, but I have not investigated how to use it.
Garmin Training Center History Extractor: This appears to be a utility that can extract out workouts from a Garmin Training software history file.
Example map images from my downloaded GPS routes
TopoFusion Example:
Pikes Peak Marathon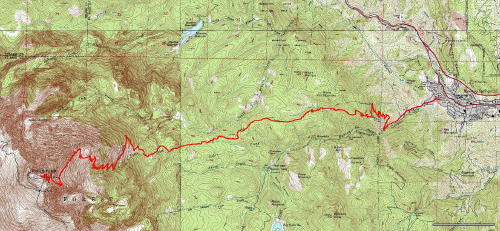 (Click the image for full sized map)
Examples from Google Earth:
Pikes Peak Marathon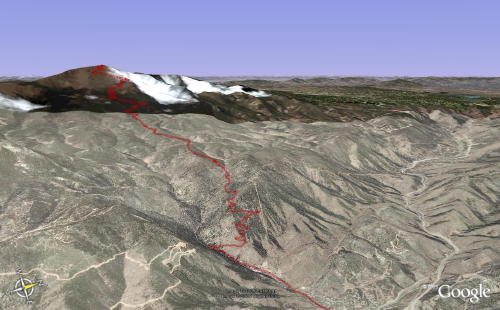 (Click the image for full sized map)
Mt Diablo 25K/50K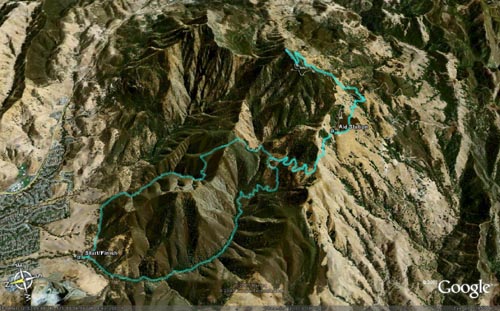 (Click the image for full sized map)