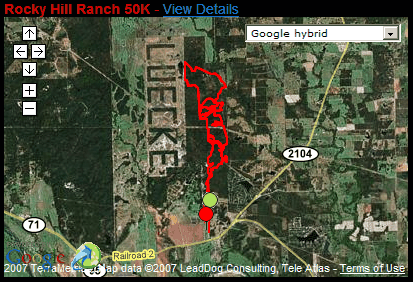 GPS recorded route. Click image for Google Map
I ran the Rocky Hill 50K trail race near Smithville, TX. It consisted of 2 25K loops of the course. My first lap when well, coming in at just over 3:20 which was within a minute of my 25K finish two years ago on this course.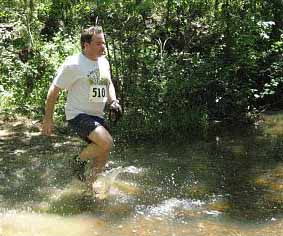 My second lap was a little slower, finishing in 8:20. As usual with Joe's races, all the aid stations were well stocked. Especially Sammy's station the second time around with spaghetti, macaroni and potatoes, with Dinty M. Taking these pictures. Thanks to all the volunteers.
I thought it was interesting seeing on the Google Map someone carved his name across several miles of his property. I am guessing it must be his name. (EDIT: I have since read that this is readable from space)
NOTE: this race has since been renamed
Hells Hills