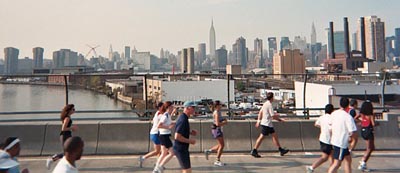 I Ran the 2003
New York City Marathon
. There was some hype since this was the year that
Diddy ran the city
. I carried a disposable camera and took a few pictures. They did not come out so well, but here they are:
Hayden Hall Hotel
since renamed as the Park 79 hotel. It turns out an old friend from college lived a few blocks from the hotel and it was good to visit.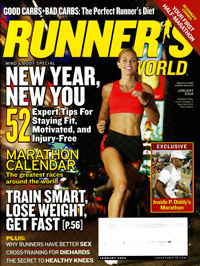 There were a good number of Austin runners who traveled to NYC. A large group of us met for dinner the night before times square. As I was walking to dinner I came across a model running back and forth in times square while photographers took her picture. I would see one of those pictures on the cover of Runners World magazine the following month.
On race day I left the hotel extra early with my roommate, took the subway to times square, picked up his girlfriend and some other austinites, and got on one of the first buses out to the start. Then we waited for a few hours. Someone had an old throw-away sleeping bag that we used as a blanket to sit on. P. Diddy and his entourage including MTV film documenters walked by. Later I watched the MTV documentary and there was a clip of him as he passed my location. If I had stepped a couple of feet forward I might have been in the shot.
As race approached, the starting corrals emptied into the big street behind the start line. Then flood gates open and we start across the bridge from Staten Island. The start was split into 3 separate chutes that would not reconverge until several miles into the race. My chute ran across the top level of the bridge. I had heard it was not good to be on the lower levels of the bridge because people above would pee off the side (for those non-runners - it is common for a lot of people who have been hydrating before the run to need to relieve themselves after the start), but I never saw anyone relieving themselves from the top level of the bridge.
The miles passed by quickly. the course ran through all 5 boroughs. I was quickly separated from the group I started with. I think there were 34,000 runners this year. Spectators crowded the sides nearly the whole way. Around mile 16, my legs really cramped up. Prior to the race, my roommate introduced me to Endurolites for electrolyte replacement, and at the time I wondered trying something new on race day caused this. But in hindsight, I suspect it was more likely that I was not taking enough electrolytes. It took a mile to walk out the cramp, and then I went ahead.
In the last 4 miles there were so many people walking that I probably added a mile weaving in-between people. Despite a course width of 6 or 8 lanes at times, I could not find a straight line not blocked by walkers. just before the finish, a guy sprinted past me wearing a full stormtrooper costume. I finished my second marathon here in 5:25, which was about 35 minutes slower than my first marathon.
Related:
2009 NYC Marathon Report & Pictures