Today was the Runtex-2-Rogue 20 mile training run with the Rogue training group. It was the best run of this distance in a long time, especially after having a bit if a sucky running season the last couple of months. It started at Runtex Gateway and ended at the location of the future Rogue store. I started at 5:30, 30 minutes before the rest of the group. I figured this way I would get there before the breakfast taco's were gone. I grabbed a map when Ruth got ther to setup and took off alone before anyone else had even arrived.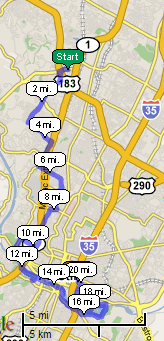 It was very peaceful running in the dark through the neighborhoods along the 3M route for the 1st few miles. Lots of deer. Normally these long runs have about 200+ people clumped at the start, but for a change I got to run alone and it was relaxing. at 4 miles I turned off Mesa onto North Hills Drive, which coincidentally is the name of the street I grew up on in Tennessee. There I realized I had dropped my route map. But I was not worried. I had a water bottle, a few dollars, and enough nutrition to last me. I knew the first 6 miles of the route and the last 8, so I figured I would not have any problems making it to the end. I found Panther's water stop and mile 6 when the fastest runners started catching up to me. There I got to look at his map and memorize the rest of the route, which was not too difficult without too many turns. As faster runners passed me over the next few miles, it motivated me to run a little faster.

Last week's run was painfully hilly, so it made this mostly downhill run feel easy. I had reached the Town Lake trail at the 12 mile mark before long. Normally I get rather de-motivated on this trail. I guess I have come to associate it with the last 2 miles of so many long runs that I feel in that depleted state whenever I run there. It is like pavlovian conditioning. But not today. There was even a rare Ultra Ho sighting. All 3 of them, together on the trail. I made it through 7 miles on the trail without any problems except for picking up rocks in my shoes. The last mile or so after leaving the trail I had gotten familiar with last month in Brownie's Pub Run, so I knew it would be longer than expected. I got there just with the tail end of my running group, feeling good, and with plenty of time to grab some taco's before they ran out.