You are here: Home
Wednesday, February 28, 2007
Posted by JohnF at 2/28/2007 6 comments
Labels: Other, Pikes Peak Marathon
You are here: Home
Saturday, February 17, 2007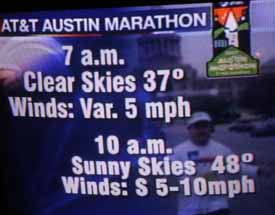 The KXAN tv station has been using a picture of me running last year's Austin Marathon as a background image for graphics in their coverage of this year's marathon. No doubt a tribute to my awesome athletic performances ;)
This got me thinking about where they got the picture from. ...Read the rest of this post...
Collapse post (Summary only)...
Posted by JohnF at 2/17/2007 5 comments
Labels: Austin Marathon, Road Running, Running